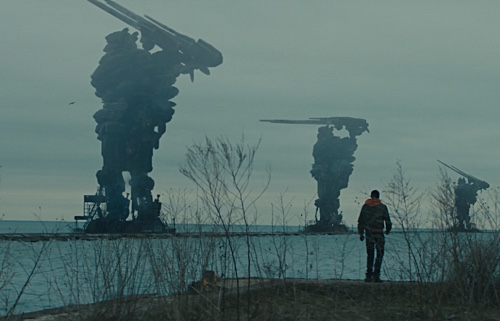 Captive State (2019)
★★ / ★★★★
Social commentary-heavy "Captive State," based on the screenplay by Erica Beeney and Rupert Wyatt, is an interesting lo-fi science-fiction picture on paper. Instead of engaging in ostentatious display of special and visual effects through action sequences or focusing on elegant character development, a detached approach is employed as the story follows a group of insurrectionists who wish to destroy a Chicago-based "Closed Zone," a location where aliens known as Legislators reside (aptly named because they have made and enacted laws ever since humanity's surrender nine years prior.) It is expected the attack would inspire everyone else around the world to rebel against and usurp the aforementioned extraterrestrial invaders from stealing Earth's natural resources. The execution leaves a lot to be desired, however.
On the surface, there is tension: we have no attachment to the various insurgents, only their main mission. As a result, we get the feeling that any one of them can drop dead at any second. The camera follows them—a medical student, a mechanic, a father, a soldier, among others—being courageous, afraid, and desperate with little regard to their histories or who they leave at home. A sense of realism is created, from information written on a piece of paper being passed around to the hi-tech bomb capable of camouflage that must be activated and placed at an exact location at the right time. This is when the film is at its best.
However, when the material turns its attention on the three "main" characters—in quotations because we spend a little bit more time with them than the others—the pacing screeches to the halt. In the opening scene we see two brothers whose parents perish in the hands of the invaders. Years later, the elder brother, Rafe (Jonathan Majors), is presumed to be a deceased terrorist, and the younger brother, Gabriel (Ashton Sanders), works in an assembly line where electronics are analyzed for information that could be used against the creatures. Although Majors and Sanders have the versatility to communicate a range of emotions, the screenplay fails to get us to care about them as brothers and as individuals with different end goals.
Not even the great John Goodman, playing a commander in charge of capturing rebels, is able to save the material. He is wonderful in communicating with words but his face tells a completely different story. There is subtlety is how Mulligan carries his power and how he exercises it. But I think the writers' intention is to create a character who is a master chess player. To me, there is not a shred of mystery on what it is he wishes to attain ultimately. Even I was able to stay one step ahead in regards to the details of his job and the reasons behind his manipulations.
I enjoyed the way it is photographed. "Captive State" offers a near-hopeless future where gray and neutrality is in everyone's hearts and minds. Bright colors are nowhere to be seen. Garbage is not collected and so they pile up in the neighborhood. The sun always appears to be hidden behind clouds. When we hear music, it is quite depressing and never longer than ten seconds. When it is silent, we hear violence from a distance. Sometimes it is of screaming from horror or pain. Even the spacecrafts look lived-in, decaying.
Directed by Rupert Wyatt, "Captive State" might have benefited from further revisions because some elements are already strong. While an impersonal approach is ambitious, I felt as though the age of drones, lack of privacy, and our every movement being tracked is already here. It is true that we do not have to care deeply for the characters. However, emotions or ideas must be amplified somewhere else. For instance, the screenplay might have attempted to create outrage from communities being forced to live in a police state, the way they are starved to keep them weak physically and mentally, and the brainwashing that occurs to create a semblance of peace.