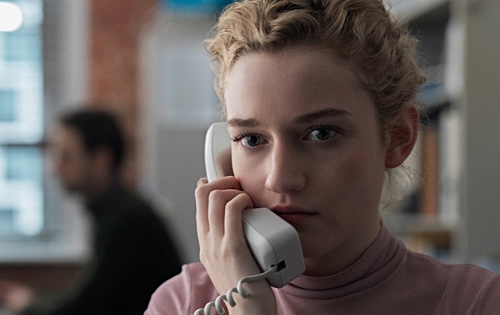 The Assistant (2019)
★★★ / ★★★★
First one in, last one out. This has been the life of Jane since having taken on the assistant position just five weeks ago for one of the heads of a major film production company based in New York City. She is played with deep nuance by Julia Garner, capable of making us feel specific emotions, and to what degree, oftentimes without saying a word. When writer-director Kitty Green focuses on her subject's face, especially during moments of great stress, the dramatic picture functions almost like a thriller in that we wish to scream for Jane—out of frustration, out of anger—to get the hell out while her humanity hasn't yet been spirited away by a job that demands a person to look the other way for the sake of getting ahead.
The story unfolds over one work day. We observe Jane heading to and entering her place of work while it's still dark outside. Much attention is paid on her usual menial tasks. There is no dialogue, just sounds of her footsteps, her breathing, files that must be organized, the printer vomiting out scripts, schedules, photographs. These are shot with great patience and a terrific eye for framing. Notice the minimal use of primary colors. The color gray and bluish-gray pervade the screen. The workplace feels like a cold storage for the dead or dying. We can almost hear a pin drop.
We study Jane's face. Her work might be boring to us—and it might be boring to her as well considering her level of education and drive—but notice there is not a moment in which she fails to take every single chore seriously. The action around the character may be considered nondescript, but the character herself is never boring. Garner reminded me of a young Meryl Streep because it inspired me to consider if certain quirks possessed meaning not in terms of plot but in terms of character. It is without question she's one to watch.
Once more people are in the building, we are tasked to observe the workplace environment. It is uncommon for people to look at each other in the eye—especially, for example, between a lowly assistant like Jane and a powerful executive in a suit. There is no laughter among co-workers despite their stations being only a few feet away. Not even a smile. Competition can be felt in the air. It's the kind of workplace where people snicker and gossip when they notice you did something even remotely wrong. When there is laughter, it is the polite, professional laughter shared among people with power. Assistants are invisible… unless they are needed. Or had spoken or did something out of turn. I wondered if the writer-director, clearly confident with her material, intended for the viewers to ask, "Why are we like this to one another?"
This is a movie that shows more than tells. A typical moviegoer can dismiss it for not being exciting. And he or she would be right, if one only considered the surface. It is not for everyone, certainly not for impatient viewers, but it is for me. Some may claim that the picture only takes off the moment Jane decides to visit the head of Human Resources (Matthew Macfadyen) and report a possible inappropriate relationship. But I disagree.
I believe this is the climax of the picture, the scene that puts a face on her highly toxic work environment. It stands out because it is the first time that we get a chance to look at power not as an idea but as an ordinary man who silences legitimate concerns in order to maintain status quo, to protect those already in power, to keep the small powerless. This is a microcosm of modern America.