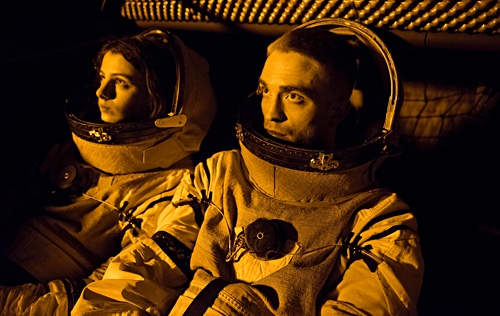 High Life (2018)
★★★ / ★★★★
The obtuse but consistently fascinating "High Life" tells the story of a group of criminals, each one either sentenced to life in prison or on death row, who are given the chance to serve science by going to space, approaching the nearest black hole, and collecting its rotation energy. On the way there, most of them participate in an experiment involving artificial insemination led by Dr. Dibs (Juliette Binoche), a doctor who murdered her family. The work offers a tight and slow pacing but never boring, supported by numerous ideas like the value of a life within a microcosm, freedom in an enclosed space, and what it means to have purpose during what is essentially a suicide mission.
There is a strong possibility that most may sit through the film and find little to no value in it. The closing chapter, after all, is anticlimactic, tinged with sadness, and open-ended. One cannot be blamed for asking, "What's the point?" But I believe the aim of the screenwriters, Claire Denis and Jean-Pol Fargeau, the former directing the picture, is not to tell a work with a defined shape through precise plotting. This is supported by a non-linear storytelling followed by some vague build-up surrounding fates of particular characters—some die in the hands of one another, others choose to kill themselves, one or two entirely by accident. It is a prime example of a story in which the value lies upon the journey more than the destination.
The work is shot with a keen eye. Never mind the neon lights. Beauty lies in actual details, like the many routines the criminals must partake in, especially when inside Dr. Dibs' highly impersonal clinic. For example, because she rules over that space, and knowing her obsessive approach to create a life in space, bodies are treated like cattle. She does not ask questions unless answers may be relevant to her work. When she herself is asked questions, she is often dismissive. When a participant expresses distaste for her project, concerns are not addressed directly or elaborated upon. She values her samples over the people who provide the samples. A case can be made that the character symbolizes the oppressive system back on Earth. And yet Dr. Dibs is not portrayed as a villain.
Aside from Binoche's single-minded "second chance" doctor, another standout character and performance is Monte, played by Robert Pattinson. In the opening sequence, we learn he is the only adult survivor aboard the ship. But he is not alone. There is an infant with him—a little girl that we assume to be the product of Dr. Dibs' artificial insemination project. I found it strange but curious that although Monte and the baby is supposed to be the heart of the picture, given they are introduced prior to the rest of the characters, I did not find myself invested in their relationship or story. Or perhaps we are meant to feel this way, to prey on or capitalize upon our assumptions that a father figure and a helpless child must be the focal point not only within the vastness of space but also among criminals of varying degrees—from petty crimes, drug addicts, to rapists and murderers.
"High Life" offers an enveloping experience, filled to the brim with thick atmosphere and a sense of foreboding. In some ways, the core is a muted horror film surrounded by ideas closer to science-fiction. Like the Dr. Dibs character, it is, for the most part, impersonal. It is uninterested in making us like the characters. In fact, we are encouraged to dislike some of them. On the surface, viewers may sneer at all the artificiality—its use of light, the synth music. But I think that those who manage to see through the fog may find something worth examining.