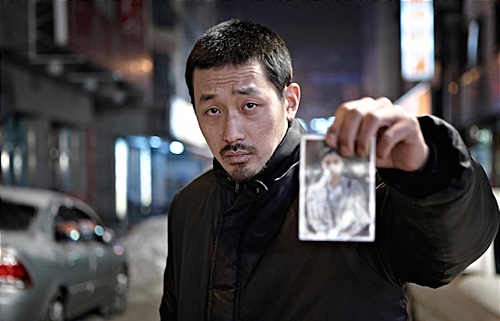 The Yellow Sea (2010)
★★★ / ★★★★
"The Yellow Sea," written and directed by Hong-jin Na, is a highly entertaining, sometimes confusing but always interesting, action-thriller from South Korea. It engages the audience by presenting a seemingly straightforward situation and slowly the tentacles of deceit creep out of their hiding places as the protagonist gets deeper into his mission. In addition, the picture offers a sharp eye when it comes to its action scenes, proficiently balancing white-knuckle suspense and well-placed humor.
Gu-nam (Jung-woo Ha), working as a cab driver in China, grows increasingly worried and jealous that his wife, who traveled to South Korea for work, has been cheating on him with no intention of ever coming back—even to provide financial assistance to their child. The pressure to get in contact with her increases with each day because debt collectors need the money that Gu-nam and his wife owe for the visa. It appears most opportune when a leader of the Chinese mafia, Myun (Yun-seok Kim), approaches Gu-nam with an alternative: to go to South Korea and kill a man. Doing so would pay his debt in full. Gu-nam feels he is left with no other choice.
Despite a running time of one hundred thirty minutes, there is never a dull moment because the writer-director has complete control of the material's tone and tonal changes. Notice that the first third is quite slow, more concerned with showing a man's difficult situation rather than complicated stunts, and we get a chance to understand how the protagonist's thinks and recognize his strengths and weaknesses. The rest of the picture offers an opposite approach: fast-paced, adrenaline-driven, noisy. It tests the man to his limits as he follows the strands that might lead to his wife's whereabouts.
Its chase sequences are especially strong. One takes place in a high-rise apartment building and the other in and on a cargo ship. I found these refreshing because there is something about a mob, whether it be composed of cops or criminals, chasing a man that makes the scene scarier. In many American movies, chases usually involves only two or three people, certainly almost never more than five.
The constant movement in the background, accompanied by screaming and yelling, locks the viewer into paying attention as the distance between the main character and his potential captors grows shorter. In addition, the writer-director is not afraid to make the choice of minimizing the use of guns. Knives are used most often. I smiled at a character using a really thick animal bone, likely to be a femur, as a club. There is creativity here and Na makes smart choices in order to elevate the feel of action sequences.
Another impressive aspect is the film's use of real cars smashing against one another coupled with really tight editing and most convincing sound effects so that the audience can almost feel the impact of every bump and glass shatter. There is a wonderful balance between close-ups and wide shots so we feel as though every decision by the person behind the wheel counts. There is plenty to appreciate in seemingly simple moments.