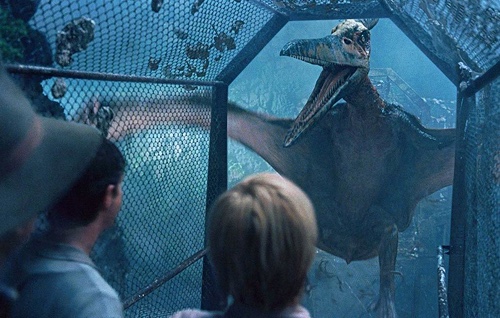 Jurassic Park III (2001)
★★ / ★★★★
Joe Johnston's "Jurassic Park III" suffers from similar problems as Steven Spielberg's "The Lost World: Jurassic Park" only it is even less ambitious. This time, the plot revolves around a straightforward rescue mission of a pre-teen (Trevor Morgan) whose parasail crashed in Isla Sorna, the island we came to know quite well in the predecessor, where bioengineering company InGen bred various creatures that roamed the planet during the Jurassic and Cretaceous periods. Although exciting in parts, the picture is a product of diminishing returns: there is a lack of freshness in the majority of chases: setup, initial jolt, a whole lot of running, followed by last-minute saves. To claim there is minimal drama would be an understatement.
There are only two sequences worth sitting through: when we first come to meet a Spinosaurus and the Pteranodon attack amidst a heavy fog. With the former, the screenplay does a solid job in communicating that a Spinosaurus is equal to if not a greater threat than a Tyrannosaurus rex. Although silly, I was entertained by the duel between the two creatures especially because it gives us time to observe how they attempt to render their prey helpless. For instance, the T. rex. tries to overpower its enemy using its size and body weight. But when it comes to the Spinosaurus, it is more reliant upon its agility and jaws. Look how it twists its neck at every opportunity in order to get the upper hand. I got the impression, too, that perhaps it is more intelligent than the T. rex. (But we all know that when it comes to intelligence, Velociraptor is king.)
As for the Pteranodon scene, it is unlike any of the dinosaur attacks we've encountered throughout the "Park" series. While there is running, there is a whole lot more jumping and gliding. Aerial shots are terrific, especially when the Pteranodon, while grabbing hold of a human, is required to maneuver among cliffs and other obstacles. Its astounding speed in combination with the thick fog, there is tension that a character may be in real danger should we lose sight of him or her. Bonus points for injecting personalities to the infant Pteranodon, not just in the way they sound but also in terms of movement. Because they are not quite so adept in using their wings, they jump—adorable but also terrifying. I wish the picture consistently functioned on this high level of creativity.
Like "The Lost World," when the action dies down, the work reverts to a state of comatose. The couple (William H. Macy and Téa Leoni) who hires Dr. Alan Grant (Sam Neill) as a "tour guide" is not only boring but bad caricatures. I felt they were stripped right out of generic suspense-thrillers in which their offspring has been kidnapped and in dire need of rescue. Cue slight bickering for comedic effect. And, of course, they are required to get a little closer or learn to appreciate each other more before the end credits. All that's missing is a renewal of their vows.
It is so disappointing because there are a few characters worth getting to know. First, there is the technology-averse Dr. Alan Grant. Neill infuses him with big personality, but the screenplay by Peter Buchman, Alexander Payne, and Jim Taylor fails to get him to say anything remotely new or interesting. Laura Dern, as Dr. Ellie Sattler, makes a quick appearance but she, too, is not used in a way that elevates the material. An argument can be made that the best scene involves no dinosaur at all, just Alan and Ellie—former colleagues and former lovers—spending time with one another, looking in each other's eyes, talking about science. So why aren't these two in the middle of this film?
Another potentially curious character is Billy Brennan (Alessandro Nivola), Dr. Grant's graduate assistant. Instead of functioning as an awkward appendage for the majority of the picture, why not write this character, for instance, into Dr. Grant's likeness? Never mind the surprising moments of blind heroism; that's an easy similarity. But actually write a character with whom we feel to be Dr. Grant's equal—but young, ambitious, and especially driven. As we observed in "Jurassic Park," the Dr. Grant character becomes a more curious specimen to study the more often he is surrounded by minds and personalities that challenge him. So why not apply a similar approach to this project?
The answer to both questions is that it requires more effort to create memorable characters that feels exactly right for the story being told, not to mention the themes being tackled, compared to creating superficial and expected thrills. Laziness is what prevents "Jurassic Park III" from truly taking off. There is nothing wrong with a standard rescue mission plot. But the details must be specific and emotions behind them must ring true when the occasion calls for it. Otherwise, it is just another romp in the forest with CGI dinosaurs—watchable but not impressive.