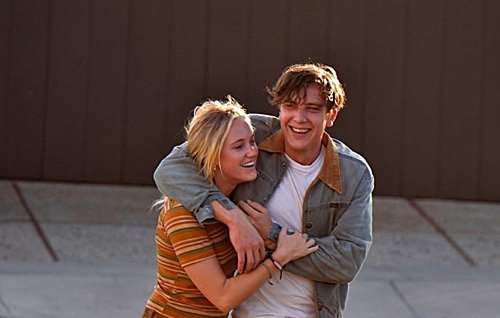 The Tribes of Palos Verdes (2017)
★★ / ★★★★
This is a story about a father (Justin Kirk) who leaves his family, his tribe, and the rest of his unit (Jennifer Garner, Maika Monroe, Cody Fern) must deal, in his or her own way, with the sudden shift in the tide. The setup is a standard template for family dramas, particularly melodramas, but what is initially intriguing about it is that it takes place in a wealthy community of Palos Verdes, where keeping up appearances is adhered to as it if were a religious cult. Because it has the potential to be so pointed in its critiques of a specific community and others like it, it is all the more disappointing that the material lacks focus.
"The Tribes of Palos Verdes," based on the novel by Joy Nicholson, is written for the screen by Karen Croner. While I admired its enthusiasm and willingness to introduce every subplot, notice how the story never stops beginning. While numerous subplots may work in novels, particularly those that are heavy in interior monologues so that every character's complexity is painted on a canvas, this approach can kill the pacing of lean dramas that must get to the point of every important arc in order to prevent the pitfall of boredom. While not completely tedious, the picture's content is repetitive—which does not help because its melancholy tone is enveloping. The material requires urgency in order for the viewer to care.
Our heroine is Medina (Monroe) whose identity is largely tethered to her twin brother (Fern). Through narration, we learn of her thoughts and yearnings, her dreams of surfing coasts across the globe. Particularly interesting about her is in how she describes her new community (her family recently moved from Michigan) in a somewhat sarcastic, flat tone. Words flow out of her but the emotions behind those words are actually more interesting. Small but curious choices like this that Monroe gives her character makes Medina tolerable rather than being a complete bore. Realize the lack of depth in her journey from novel to screenplay; she merely reacts to the changes that members of her family undergo: the divorce between her parents, the mother's breakdown, the father's apathy, and the brother's drug addiction.
As a result, when a romantic subplot involving Medina and Adrian (Noah Silver) comes along, the aspiring veterinarian steals the spotlight from under our surfer girl. He is the more interesting character because not only is there an effortless warmth to him, he is intelligent and there is a stability to his presence, his spirit—traits that we wish our central protagonist possessed despite the tornado within her household. In other words, in order for us to be fully immersed with the drama, viewers require an anchor. There is none to be found here.
At least the picture is photographed in an interesting way. Despite the setting being an affluent California coastal community, it almost never looks completely sunny. It creates the impression that we are seeing the story unfold through sunglasses—an intriguing choice since it underscores the misery and desperation that its subjects must wrestle against. A point can also be made that these sunglasses are meant to blind the audience from recognizing silver linings of sudden, sad plot developments.
There is one silver lining I was not blind to: Garner in a dramatic film. She has played numerous thankless "mom roles" in comedies and children's movies that many have forgotten that she has the capability, certainly the nuanced facial expressions, to create a truly moving scene out of tired or cliché situations.