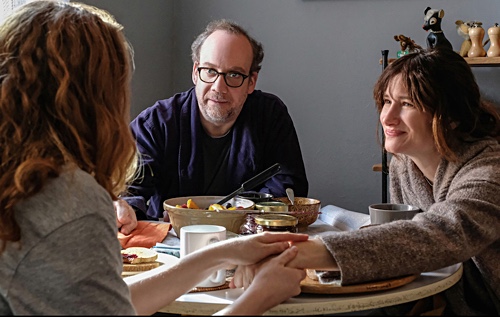 Private Life (2018)
★★★ / ★★★★
A subtle and thematically complex comedy-drama, Tamara Jenkins' "Private Life" is the kind of picture that offers an honest look at how it might be like to face hardships of trying to get pregnant when a couple is on the verge of infertility. Deeply humanistic at its core, it is amazing how one scene can start off quite funny but readily able to turn quite sad within a beat or two, only to end up lighthearted again when, for example, someone makes an awkward remark in order to alleviate the tension of a situation. Because of its ability to draw us in emotionally, often playing with our own emotions in regards to what the couple deserves versus reality and probability, the personal story in front of us is wildly entertaining, led by performers who are able to communicate plenty without saying a word.
The central couple is Rachel and Richard, played by Kathryn Hahn and Paul Giamatti, both in their forties, who have, for years, been on an obsessive quest to have a baby. It appears they have tried nearly everything: fertility treatments, in vitro fertilization, adoption… some of them more than once. These cost a lot of money and all have led to failure thus far.
Hahn and Giamatti are at the top of their game when the couple, finally, expresses their frustrations with one another. For instance, in a more dramatic confrontation, their younger selves are brought up, how one's career-driven mindset has allowed time to pass and overlook an aspect of life that they now consider to be important. In a more comedic moment, on the other hand, Richard's single testicle is referenced. There is an amusing bit about soda machines and what happens when it doesn't quite function as it should. This captures the material's interest in showing the lighter and darker sides of the couple's conception troubles.
I admired that the film is not afraid to show cabinets full of drugs, routine injections, how it hurts, puncture marks on skin—even its color—after repeated shots, the waiting room and the lack of joy in there, how it can be an impersonal experience when meeting with a doctor, how patients are sometimes treated like cattle. I loved that the images are not like in more commercial films where everyone is smiling or peppy during an appointment. People look tired, frustrated, like they just want to get the whole thing over with. Should one look closely enough, it is these bits of reality that set this comedy-drama apart from its contemporaries.
There are truly heartbreaking moments because the central couple is good, generally happy, and have shown, through their interactions with Sadie (Kayli Carter), Richard's niece who has recently dropped out of college (she claims the university has allowed her to complete her degree while in absentia—is that a thing?), that they are partners capable of raising a happy child in a happy home. They don't deserve the misfortunes and sometimes downright cruelty of some individuals they became involved with. But then again, that's life. Sometimes things just don't work out. We cannot help but remain hopeful, however. It is because the screenplay welcomes us to recognize bits of ourselves in Rachel and Richard.
"Private Life" is for an empathetic audience. Here is a film that tasks us to watch closely as the couple reaches the end of their rope of trying to have kid. It is fascinating to watch unfold not because there are plenty of life-altering events but exactly because the subjects have reached a plateau. I think the writer-director wishes to communicate that there is beauty in the every day. The final scene is fitting in that it dares to measure, or simply just remind us, how we perceive life thus far.