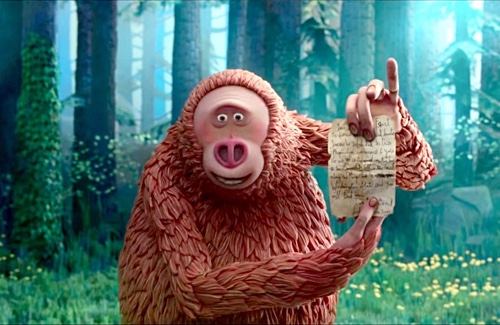 Missing Link (2019)
★★ / ★★★★
Laika's latest outing "Missing Link" has nearly all the elements to make a wonderful adventure film for the whole family. Technically, it is a marvel. As a whole, however, the picture is a disappointment because it fails to grab the viewers on an emotional, gut level. It is strange because the story's theme is belongingness. We follow two outcasts—an explorer and a mythical beast who are strangers initially—who travel across the globe with the goal of finding a place or group of likeminded individuals who will accept them for who they are. The story's trajectory is familiar and so the details that compose of that path must be special in order for the work to stand out from its contemporaries—animated film or otherwise.
I enjoyed the film for its seemingly insignificant details. Notice when a character is recalling either a painful or cherished memory, the listener, human or non-human, reacts—a small smile, for instance, that forms suddenly from a neutral expression or how one's head tilts at a precise moment of surprise or concern which confirms that he or she is indeed interested in what is being shared. These animated figures are made to embody the body language of actual people and so it does not at all require effort to relate to the characters' personalities, motivations, purpose, or hopes for the future.
More generic animated movies are more concerned about delivering kaleidoscopic colors and busy action. While the film, written and directed by Chris Butler, delivers on those fronts—perhaps most impressive a scene where our protagonists are being hunted by a bounty hunter aboard a ship that undergoes various acrobatics due to a storm—colors and action almost always have clear context behind them. Sure, there are silly pun-filled jokes, but remove such one-liners altogether and meat remains on screen. In other words, the filmmakers are not simply interested in providing sensory, shallow entertainment. It enjoys getting us to think or consider once a while and that is invaluable.
The voice work by Hugh Jackman, as the British explorer Sir Lionel Frost who specializes in providing proof of mythical creatures' existence, and Zach Galifianakis, as a Sasquatch capable of speaking English despite living in isolation out in the wilderness, is top-notch. In the middle of the movie, I became convinced that the two must have provided their lines in the same room, facing each other. Emotions behind the words command force, jokes land more often than not—which requires precise delivery especially when the point is to underline culture clash, and a convincing sense of camaraderie gets stronger as the work moves forward. If the voice actors actually recorded at different times, I would be even more impressed.
But the work did not move me emotionally—at least not on the level the screenwriter intended to move the viewer. I think it is due to a character I found to be completely unnecessary. Ms. Fortnight (Zoe Saldana), Sir Frost's romantic interest, appears to be around only to deliver sassy comments and explain or highlight the life lessons that Sir Frost and Mr. Link (the Sasquatch) are supposed to be learning about themselves. By vocalizing the insights that should naturally come about throughout the duo's journey, it cheapens the material. On this level, it assumes that viewers—especially children—are lacking self-awareness, a critical miscalculation that leaves a sour lasting impression.