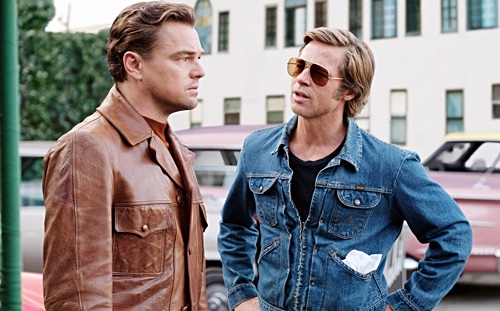 Once Upon a Time… in Hollywood (2019)
★★★★ / ★★★★
There comes a point in "Once Upon a Time… in Hollywood" when more self-aware viewers will notice that it no longer matters where the plot goes because it is so damn entertaining. Whether writer-director Quentin Tarantino is placing a magnifying glass on his characters, the cars they drive, the clothes they wear, the brand of drinks and cigarettes consumed, the soundtrack caressing our eardrums, the curious decorations on walls… the film is an enveloping experience right from the get-go—daring to be as specific as possible to create a thoroughly convincing 1969 Los Angeles. And yet, as shown during the third act, it is not afraid to take on a pint of historical revisionism. At its best I was reminded of Robert Altman's signature works, how he manages to attain a seemingly effortless synergy between his fascinating characters and the roles they play in the city of angels.
Leonardo DiCaprio and Brad Pitt is a duo I never thought I needed. The former plays Rick Dalton, a fading star who must now rely on taking secondary roles in western television shows. He fears that his career is on the verge of death both due to the changing times and his own alcoholism. The latter plays Cliff Booth, Rick's best friend and stuntman. However, these days, because of his… certain reputation surrounding his wife, he is currently, for the most part, Rick's housekeeper, driver, and motivational speaker. Even though these men are flawed in their own ways, DiCaprio and Pitt are correct to play Rick and Cliff as people who are worthy of getting to know. For instance, just because Rick is an alcoholic does not mean that he does not work hard to ensure he is prepared on set. On the contrary, he is quite hard on himself, especially when he forgets lines and appears to look foolish in front of the crew. (There is a hilarious bit of his rage inside a trailer.)
Due to Tarantino's well-written and keen observed characters, the screenplay works as a comic character study. There are times even when someone is on the verge of tears, we wish to laugh at him. But at the same time we do not dislike or feel repelled by him. It is a comedy that attempts to skewer personalities in Hollywood without having the need to be cruel. In other words, there is a certain joy about the film that is consistently good-hearted while still remaining razor-sharp. There is not enough movies of this type being released today, especially at this caliber. Thus, this makes the sudden shift during third act as potentially divisive: the violence changing from internal to external. The catharsis worked for me, but I imagine it may not for many. There is no doubt it is the more convenient avenue for entertainment.
Aside from Rick and Cliff, we meet other colorful personalities over the course of one February weekend. There is Sharon Tate (Margot Robbie) who goes to the movies to see if audiences would be receptive of her role as a klutz in an action-comedy; Bruce Lee (Mike Moh) bragging around the crew in between shoots; Squeaky (Dakota Fanning), a member of the infamous Manson Family, who confronts a stranger at her door; and Randy (Kurt Russell), a stunt coordinator who gives Cliff a chance to work despite the fact that his wife (Zoë Bell), also a stunt coordinator, does not wish for Cliff to remain on set. Each person gets a chance to shine because the writer-director proves to be most patient and not at all tethered to a typical running time of ninety minutes.
The love for filmmaking can be felt in every square inch of "Once Upon a Time… in Hollywood." Despite its running time of over one hundred fifty minutes, I could not get enough of it. Here is a movie that includes an exchange between an eight-year-old method actor (Julia Butters—her character prefers to be called an actor, not an actress) and DiCaprio, he himself known for method acting, just for the laughs. In the hands of less confident filmmakers, or filmmakers granted less freedom, it is highly likely this bit would not have made it past the editing room. But sometimes so-called extraneous material adds more personality to the work. This picture is filled to the brim with memorable personalities.