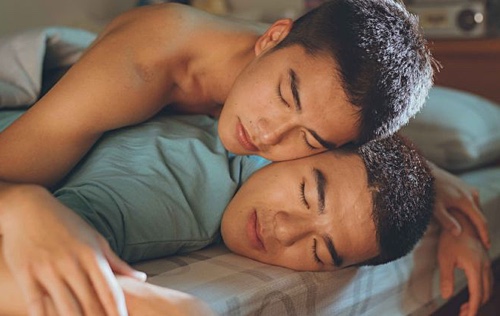 Your Name Engraved Herein (2020)
★★★ / ★★★★
Different about the LGBTQIA+ romance "Your Name Engraved Herein" is its disinterest in showing how its protagonists fall for one another—they meet, they share a meaningful look, and then they just… are. Like it's the most natural thing in the world—and that's because it is. This is fascinating from a storytelling standpoint, especially given its sub-genre, because it avoids some of the more common trappings that lead to deadly clichés and tired sentimentality. As a result, the screenplay by Yu-Ning Chu, Jie Zhan, and Alcatel Wu frees itself to explore other curious aspects of the story like the iron grip of Christianity in late '80s Taiwan following the end of martial law.
Just because politics has undergone a shift on an official capacity does not mean that the people who have been conditioned to live a certain way could—or would—follow just as easily. This thesis is beautifully delved into through the scope of the "very close friendship" between A-Han (Edward Chen Hao-Sen) and Po-Te (Jing-Hua Tseng), the latter a transfer student whose nickname is "Birdy." He quickly garners the reputation of being "crazy" due to his constant disregard for the rules and of those in power. Or perhaps his name is fitting precisely because he is free. Birdy is not afraid to be labeled as queer, to stand up for those who are down, to fight for what he knows to be right. Or it seems to be that way at first. The details are more complicated.
The camera watches closely, and it makes point that every act of rebellion is what attracts A-Han to Birdy. Perhaps A-Han, who has lived a life conformity (how he cuts his hair, how he carries himself in public, the "friends" whom he chooses to associate with, down the the subject he decided to major in), wishes to be more like the new guy. There is one thing A-Han cannot control or change: his homosexuality. On the one level, this is a story of a great love—the kind of love a person experiences and never forgets. And on the other level, this is a story of a young man who wishes so badly to be free but the times, the institutions in charge, and the belief of hate instilled in the Taiwanese society prevent him from taking flight.
Its themes of longing, yearning, and loneliness are beautifully laid out. It does not need to show someone being so sad or crying. Just look at how one character is always chasing another. At times a gesture is reciprocated, other times it isn't. Observe how it is able to communicate so much by showing a pair reading each other's minds while in a public space yet at the same time they are lodged in a little corner. There is intimacy in how they touch, play, or smile; they are at peace. By relying on images and the mood it evokes through pacing, music, and colors, it is as if the picture is whispering to us that it knows how we feel when we have fallen hard for someone.
And that makes all the difference between a romance driven by plot and a romance that just… is, a romance that can go whichever unexpected or unconventional direction and viewers would be happy to follow because it has something real to say about life and living. Congratulations to Director Patrick Kuang-Hui Liu for helming a film that is true to the topics and themes it brings up rather than simply satisfying the audience on a traditional sense. The time jump from 1988 to 2020 is risky but brilliant. There is a maturity in the way it tackles loss, acceptance, and renewal.