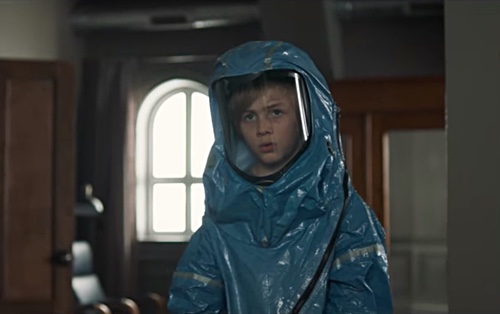 Eli (2019)
★ / ★★★★
Ciarán Foy's "Eli" is yet another substandard horror film with little on its mind other than to deliver a big twist during the final fifteen minutes. The journey toward the destination is slow, interminable, and peppered with scares that rarely land on target. For a story that unfolds in an estate in the middle of the country—perfect for a haunted house movie—there is no intrigue, just clichés that pile on top of one another until the viewer is compelled to no longer care.
It begins with a curious medical case about a boy named Eli (Charlie Shotwell) who began to exhibit signs of an unnamed autoimmune disorder four years prior. When exposed to the environment, red spots appear on his skin aggressively and so he is forced to live in a bubble. His parents (Kelly Reilly, Max Martini) found a new hope: Dr. Horn (Lili Taylor), an immunologist who plans to employ viral gene therapy to repair the boy's defective genes.
Although a mysterious premise, the science aspect of the picture is almost immediately thrown out the window from the moment the desperate family steps inside the palatial home. It does not help that the immunologist and her nurses are written as villains in the most obvious way possible: stern-faced, cold, impersonal, robotic. It does not provide the audience a chance to decide for themselves whether or not to trust the poker-faced trio. You see, the reason is because every decision must serve the rug to be pulled from right underneath our feet. If the screenplay by David Chirchirillo, Ian Goldberg, and Richard Naing really cared about engaging the audience, it would have been willing to entertain possibilities.
The middle portion drags to the point of futility. Every time day turns into night, you can bet that Eli would have a nightmare, get up from the bed, and explore the creepy facility. Sometimes he encounters ghostly figures that breathe on windowpanes, a few of them whisper clues, and one or two reveal themselves, CGI and all. It is formulaic, exhausting, and not at all scary. There is a lack of patience during the buildup and so the would-be payoffs are not at all impactful. Shotwell is quite convincing at looking terrified, but we do not believe the emotions on his face because there is nothing special about the craft propelling such encounters.
As for the drama between a desperate mother and seemingly cold father, I found it to be recycled fluff. There is a scene early in the picture which shows the family's financial struggle due to the boy's rising medical costs. However, this fact—this reality—is never brought up again. I think the movie could have used more searing honesty. It is common knowledge that family members tend to fight among one another when money is tight. People get desperate not knowing how to pay for rent or how to pay for the next meal. Pretty much everybody can relate or empathize with this. However, the movie would rather focus on parents fighting because one has lied, or has kept a secret, or some vanilla reason. Be direct. Deliver raw drama.
Admittedly, the twist is quite smart. I did not see it coming. But a good twist—even a great one—is not worth a recommendation when everything else around it is uninspired, from the unsubtle dialogue, forgettable set decor, down to a resolution that hints at a possible sequel should the movie become a success. It is pessimistic filmmaking.