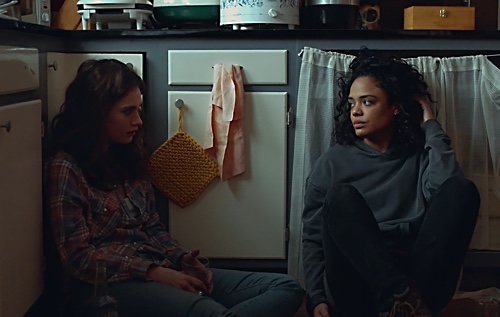 Little Woods (2018)
★★★ / ★★★★
Nia DaCosta's "Little Woods" is a tale of two sisters living in fictional Little Woods, North Dakota who must continue with life after their mother dies. It is told with empathy and humanity without touching an ounce of sentimentality despite the crippling destitution all around. It is the kind of movie that invites us to look closely at how people live, from the size of their homes, the clutter, the food they eat, down to the items inside their cabinets. There is drama on the surface, but it requires looking just underneath the plot to become invested in it.
Tessa Thompson and Lily James play Ollie and Deb, estranged sisters who reconnect when life pushes them toward a new phase. With Ollie, she has ten days left of probation after having gotten caught smuggling and selling drugs between the United States and Canada. She wishes to move out of town and start anew, but there is so much temptation to go back to what she does so well. Meanwhile, Deb has just found out she's pregnant. Already raising a young son, there's just no chance she can continue to provide from waitressing.
Ian (James Badge Dale), her on-and-off lover, is deadbeat who promises a lot but delivers little. Deb wants an abortion, but even that costs money. Thompson and Lily are believable as sisters who may not be of blood but their history glues them together in such a way that they might as well be. There is not one scene or moment that does not come across genuine. And so, for instance, when Ollie decides to go back to selling painkillers, we have a thorough appreciation of her and her sister's circumstances. In its essence, it is a survival tale.
It is interesting that although the plot involves selling and transporting drugs, there is not one cop that suspects and follows Ollie. This is a smart choice by the writer-director because doing so would have shifted the tone toward a thriller category. This is not meant to imply the picture is without suspenseful moments. On the contrary, there are plenty of it. For instance, Ollie must deal with suspicious individuals—many of them drug addicts—and she is required to check-in with her probation officer (Lance Reddick) who is really proud of her for coming so far.
In the latter situation, the fear is not so much about getting caught and being sent to jail. It is about not disappointing the one person who is tough on Ollie because he genuinely cares for how her life will turn out. Carter cares, I think, not just because it is his job but because he sees potential in Ollie to do good and to lead a stable life—a simple one—that's rewarding in its own way. He sees the brightness at the end of her tunnel more clearly than she does. So, he tries to pull her toward it in a no-nonsense fashion.
Having said that, I appreciated that Ollie's relationship with her probation officer is not explored. Thompson and Reddick are so communicative without having to rely on words. I felt a certain trust between the writer-director and the actors, and also trust between the thoughtful material and the receptive audience. It is not necessary to have to spell out everything for the sake of clarity. Because, as we all know, in life, certain things go beyond description or explanation.
"Little Woods" is not about action but about observation. We spend a couple of days in Ollie and Deb's shoes and appreciate their loneliness and desperation to be free. Although the story is quite bleak, there are enough hopeful moments that hint at the possibly that the siblings would turn out all right eventually even though it is challenge to imagine it from moment to moment. Despite the plot lacking big, sweeping events, it offers many layers and dimension.