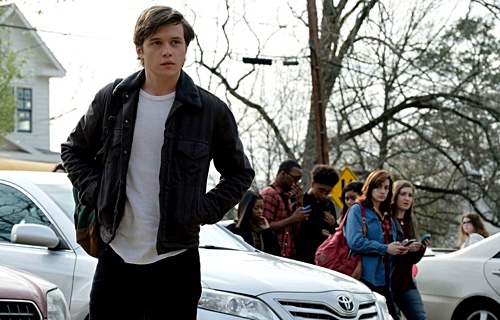 Love, Simon (2018)
★★★ / ★★★★
The first major studio-supported teen coming out story "Love, Simon," based on the novel "Simon vs. the Homo Sapiens Agenda" by Becky Albertalli, starts off on the wrong foot and stumbles. Considering the quality cast, I couldn't help but wonder why nearly every attempt at humor comes across forced and cringe-worthy. A silly attempt at flirting before driving off for school. The overly enthusiastic vice-principal (Tony Hale) collecting cell phones in the hall. An uneasy interaction with the class clown (Logan Miller) by the lockers. These are elements that belong in a television show. Easy to execute, low rewards. But something interesting happens about a third of the way through. The film stops playing everything so safe. I was jolted into paying attention as the title character goes through desperate lengths to keep his "huge-ass secret" hidden. Simon is likable, but some of his decisions are not.
Simon is played by Nick Robinson and it is smart casting not only because the actor has an effortless sad look about him (which served him well in the drama "Being Charlie," about a drug-addicted teen who decides to terminate his treatment prematurely), required during the more dramatic turns of the plot. It is critical, especially for a commercial coming out story, that the protagonist be convincing as an American boy next door who goes to school in the suburbs in either coast—including the Midwest, perhaps even the South. Because the look of the subject is accessible, relatable, and approachable, gay teenagers still in the closet might look at him and immediately recognize a part of themselves. And for those who may not look or act like him, the screenplay by Isaac Aptaker and Elizabeth Berger is already a step ahead.
It is true that the main character dreads to reveal his sexual identity. He recognizes that his liberal parents will likely accept him (Jennifer Garner, Josh Duhamel). And he is almost certain his best friends (Katherine Langford, Alexandra Shipp, Jorge Lendeborg Jr.) will have no problem with it. Looking closely, it isn't really the coming out that terrifies him most; the core of his fear is those he loves seeing him differently after the fact. And that's what this picture gets exactly right that so many LGBTQ pictures, many of them comedies, that tackle the same subject get exactly wrong. I admired that the material has the sense to explore what it means to come out of the closet, not just the act of it. Because of this insight and willingness to dive deeper an extra level, despite its shortcomings, it is already a tier above its contemporaries.
About three quarters of the way through, the picture has reached full power. There is a wonderful exchange—moving, delicate, and powerful all rolled into one—between mother and son that highlights what it means to come to terms with one's sexuality, to decide to live that private sphere more publicly; its effects on one's state of mind and overall sense of being further down the line even though every day is a long, painful struggle at the moment. Garner reminds us how underutilized she is as a dramatic performer. It reminded me of the disarming exchange between father and son at end of Luca Guadagnino's sublime "Call Me by Your Name." Both interactions underscore optimism and hope for the future. It is something that every LGBTQ person, especially youths, ought to hear and take with them.
"Love, Simon," directed by Greg Berlanti, is not without genuinely amusing moments. Particularly creative are instances when we get a peek inside Simon's imagination. Cue the striking changes in lighting and pop songs playing in the background. Following an anonymous post at the school website, Simon begins a correspondence with "Blue," a student who claims he is gay. Part of the fun is following Simon's journey in trying to guess or deduce the identity of Blue. We are provided a few candidates. Some lead to inevitable heartbreak even though it appears that certain candidates fit the puzzle based on the contents of the e-mails. Admittedly, I had my money on the incorrect candidate, but I appreciated that the material went ahead with the braver choice.