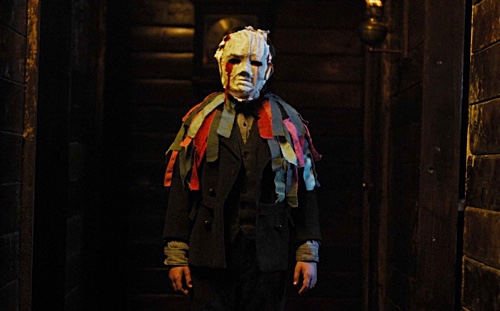 Apostle (2018)
★★★ / ★★★★
The name Gareth Evans is not yet a household name, but trust that in time it will be.
Stepping out of the Indonesian martial arts pictures "The Raid" and its superior sequel, writer-director Evans offers a period horror film in which a man named Thomas Richardson (Dan Stevens) infiltrates a religious cult after his sister's kidnapping. The ransom note demands that their father be the one to visit the island, but it is impossible given that the old man is no longer mentally present. "Apostle" is a film that could have been told in ninety minutes, but its length, particularly its willingness to immerse the viewer in the villagers' way of life, is exactly what I admired about it. It puts the audience into a specific mood as insane images begin to parade across the screen like multiple crashes with gruesome fatalities. It is no "Final Destination 2" but gorehounds are certain to be satisfied.
It does magic right by keeping it minimal. Residents of the isolated Welsh island revere a goddess that provides them good crops—at least until recently. Lately, the crops have become toxic and the animals stopped breeding. Those that did end up giving birth, they produced abnormal offsprings, certain to die out of the womb. Although this island is rooted in magical workings, I enjoyed the decision to downplay it. As a result, visual effects, like CGI, is almost never required in order to get the point across. Instead, we learn to rely on our imagination when practical effects are shown to us. For instance, we are shown the insides of crops, how its contents react to water. There is implication that it would lead to death if eaten.
Another example is showing the goddess herself. Focusing on her magic, like what results after having to wave her arms around, would have been laughable, inappropriate in a story like this. Instead, the camera focuses on her withered appearance, perhaps even inspiring us to wonder how she might have looked like during her prime. There is a sadness in her appearance; it is the correct decision not to make her look scary or terrifying in a classical sense. Because the point of the story, I think, is that the humans, especially three former convicts who started the cult (Michael Sheen, Mark Lewis Jones, Paul Higgins), are the monsters, not the supernatural elements that we typically fear.
The film is beautifully photographed, from the aerial shots of the verdant island down to the well-worn ground that the characters tread upon. Huts look convincing and floorboards look dingy and fragile. And so when a character, for instance, breaks down walls or falls through floorboards with seeming ease, there is believability to it. Surprisingly, there is also beauty in the torture scenes, particularly when devices are utilized. Notice how the camera is not afraid to be as close as possible when sharp metal hits human flesh. It dares us to keep looking even though we feel absolutely disgusted—partly tickled—with what is occurring.
"Apostle" is a horror film worth seeing because it strives to absorb the viewers into a particular world rather than simply providing cheap entertainment. While it lacks in generic jump scares, which are not scary anyway, a thick and foreboding atmosphere can be felt throughout. It dares to embrace the strange, willing to take advantage of culture-specific mythos many of us may not be familiar with. After all, what is horror but a glimpse inside of an alien world that we can only try to make sense of?