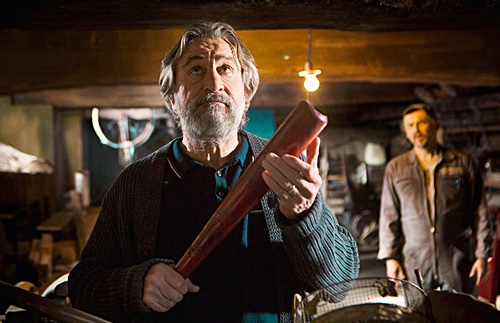 The Family (2013)
★ / ★★★★
The Manzoni family are now the Blake family as they fall under the witness protection program. Fred (Robert De Niro) has snitched against a fellow Mafia and so he and his family are no longer safe in the U.S. They are assigned to live in a small town in Normandy where not much happens. It should have been easy to assimilate but the ways of the Mafia are ingrained deep in the bones of the Blakes. Though precautions are made, their identities are discovered eventually and a Mafia boss (Stan Carp) sends his henchmen to clean up.
The film works as an action-thriller but it flounders as a comedy. Given that it is supposed to be a hybrid of both, it never reaches a healthy balance so the experience is a great frustration. Coming into the picture, I had no idea that Luc Besson directed—and co-wrote—the material. And yet at the same time I was not surprised. The last twenty-five minutes is the best part of the picture—and majority of it involves building up the tension until the inevitable violence. It shows the efficiency of the Mafia when it comes to achieving a goal, why they are notorious.
It must have occurred to Besson and Michael Caleo that their screenplay is lacking a special spark. It is not at all funny. While the characters are supposed to be bored with their new small-town life, the movie is not supposed to be boring. There is a way of showing the dullness of the every day without necessarily being dull. Each member of the family gets his or her own subplot but all of them have little heft. Their quiet desperation is not communicated in an effective manner.
Maggie (Michelle Pfeiffer) frequents a church to deal with her guilt. Belle (Dianna Agron) falls in love with her substitute math teacher. Warren (John D'Leo) deals with the politics in his school. Fred wants to write but he is not allowed to write what he knows—Robert (Tommy Lee Jones), a supervisor of the program, makes sure of that. A lot is going on but not one is particularly engaging or compelling. I never once believed that the characters are a real family. Things happen but I found myself not caring.
In fact, I found one of the subplots to be quite cheap. A minor having sexual relations with an adult and we are supposed to buy that at least some aspect of it is romantic? While the subject can be interesting in a different film with much more intelligent or insightful screenplay, it comes off desperate here. It feels like the writers had run out of ideas and so they came up with this schoolgirl crush thing that does not make any sense whatsoever.
Based on a novel by Tonino Benacquista, "The Family" is almost devoid of inspiration. A month from now, perhaps the only moment I will remember from the picture is DeNiro watching Martin Scorsese's "Goodfellas" because the joke, while obvious, is on point. I certainly wished I was sitting through that movie instead.