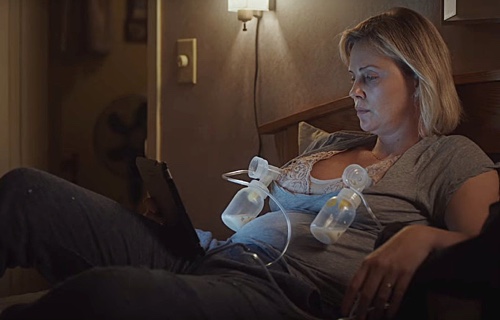 Tully (2018)
★★★★ / ★★★★
Here is a project determined to provide a raw portrayal of pregnancy, giving birth, and raising a child during its early weeks post-birth that we rarely see in the movies. We do not see the pregnant woman emitting a perfect radiant glow, a silly panicked rush to the hospital once her water breaks, nor do we come across a miraculous instantaneous recovery once she has been discharged from the hospital. Instead, it is interested in showing the reality of many ever day mothers, particularly the exhaustion that takes over as they struggle to maintain the stability of the household. Although it shows the less than sunny side of how it is like to be a mother, it is a love letter dedicated to them nonetheless. It reminded me of times when I would simply observe my mother as she juggles cooking, washing dishes, doing laundry, vacuuming, and making a list for the next day's trip to the supermarket—all of it after a long day at work while standing most of the time.
"Tully" is directed by Jason Reitman and written by Diablo Cody. Their partnership results in a savagely funny work that speaks multiple truths even with just a simple shot, a line of dialogue, or the precise timing between action and inaction. They trust that viewers are not only intelligent but that their life experiences are valuable, unique, but also universal. Not once do they cheapen the material by inserting an uncharacteristic turn of event just for the sake of making people laugh. We laugh not because there is hilarity unfolding in front of us but because we recognize a part of ourselves in the images and feelings on screen.
Charlize Theron plays Marlo, a mother of three who not only looks haggard on the outside but one who is actually wilting on the inside. It is smart for Theron to choose to play her character with a muffled strength even though Marlo is falling apart. For example, the protagonist is quick with to employ her wits when joking or being sarcastic even though her body suggests she is weak, ready to fall over from fatigue. Because we are reminded of the fire inside of her from time to time, instances when she summons unexpected vigor—when she must confront, confess, make a stand—are not only believable. These moments feel exactly right for this particular character that we must examine. We learn to appreciate her complexity as a mother who wants to do it all but is unable to, as well as a mother who decides to seek help eventually from night nanny named Tully (Mackenzie Davis).
The centerpiece is the relationship between the two women, one being at least forty years of age while the other is twenty-six. Cody's screenplay does a tricky thing by using Tully and Marlo as a sort of mirror into the past and future—but not so completely that their relationship ends up becoming just another cliché.
Theron and Davis share excellent chemistry as their characters open up to one another about their personal lives, their thoughts regarding where they are now, what they have or have not achieved thus far, where they think or hope they will be in the future. Their exchanges command a wonderful ear for dialogue. We lean in a little closer in order to dissect and understand what they mean exactly, not just with words but the manner in which words are expressed. But like Elio and Oliver's unexpected bond in Luca Guadagnino's "Call Me By Your Name," we know that their relationship—as employer and employee—comes with an expiration date. It is as clear as day that this is a comedy that works as a drama.
Perhaps what I enjoyed most about the film is its willingness to show how adults relate to children. For instance, the opening scene shows Marlo gently brushing the body of her son "like a horse," according to Marlo while conversing with Tully, because it is believed that this makes the "quirky" boy less reactive to various external stimuli. (It is never said outright that the child might have a mild form of autism.) Notice how Tully holds the baby in a seemingly awkward position but the infant is at ease. How Marlo performs a duet with her daughter during a birthday party. How the father (Ron Livingston) looks at his three children after a long day at work. The keen eye from behind the camera and the performances underline the humanity of the material. It is most beautiful during nuanced moments, moments that can be easily overlooked.