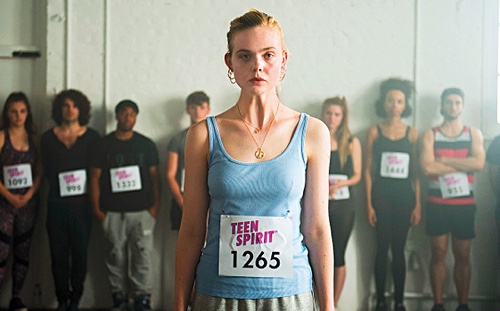 Teen Spirit (2019)
★★ / ★★★★
Anyone familiar with Cinderella's story will know the precise trajectory of Max Minghella's "Teen Spirit," a musical drama that wants to have its cake and eat it, too. In its attempt to embody a quiet independent drama as well as a commercial piece of work, especially since the majority of the songs are pop hits (renditions of songs like Owl City & Carly Rae Jepsen's "Good Time" and Ellie Goulding's "Bright Lights" are nothing special), its identity is lost in the process. I realize what it is trying to be, but what it is about is unclear. The reason is due to its lack of perspective: Does it wish to make a general statement about talent competitions? The many colorful personalities of contestants that one might encounter in a high-stakes contest? The cutthroat nature of the music industry? It's all up in the air, and it's shouldn't be.
Elle Fanning transcends an otherwise generic picture. Whether her character, Violet, is dancing, singing, engaging in conversation with someone who doesn't understand—and doesn't care to understand—her passion for singing, or communicating a deep loneliness in the dark by herself, Fanning sells every single beat with every fiber of her being. It is so commendable, and it is further proof why the performer is certain to have a career decades from now. And so when the writer-director makes bizarre stylistic choices, it is incredibly frustrating. For instance, when we are in the early stages of getting to know Violet and her voice, her performance is shot like a music video: quick cuts, energetic dancers, energetic lights, overproduced music—empty.
Why not simply allow us to hear, listen to, and process the rawness of Violet's voice? The best approach is simplicity; an act of trusting the audience of evaluating the subject's possible star power. Because the filmmaker fails time and again early on to establish convincing reasons why Violet should and will become a superstar eventually, the character's later performances are not as impactful; it feels as though we are watching a product rather than a real young woman with deep feelings who came from a humble background, a small village off the coast of England. In other words, Minghella neglects to give the audience strong reasons why the subject is special and therefore why her story is worth telling.
There is an intriguing but undercooked relationship right in the middle of the film which is shared by Violet and Vlad (Zlatko Buric), an aging drunk who lives in his car. Vlad used to be an opera singer and he considers Violet to be the potential he himself lost when he was at the top of his game. There is real tension in the relationship—not a combative one but a curiosity in whether the gentleman past his prime would be able to keep Violet on the right track so she is able to meet her goal of getting a record contract and get her family's (Agnieszka Grochowska) financial situation sorted. There are sweet and effortless moments of the two of them simply talking and finding commonalities even they are so different—in looks, in personality, their definitions of success. A highlight of the film involves Vlad supporting Violet during the early rounds of Teen Spirit, an "American Idol"-esque singing competition that may lead to superstardom.
In the end, "Teen Spirit" is just another auto-tuned piece of work—glossy on the surface but it lacks heft, substance, juice. In reality, it is not enough to simply "follow one's dreams," as they say. There is no emphasis placed on hard work, making the right connections, sacrifices, or taking risks. We see Violet dancing, singing, meeting people, and pretending to be sick so she can skip work and go to an audition—but these remain superficial level drama.
It presents the "what" of Violet's challenges as a green talent who knows next to nothing about showbiz but not the "how." It doesn't give itself a real chance to break out of the usual clichés and expectations using sharp and well-observed specificity. I felt a level of self-consciousness here. Perhaps it is because the film is Minghella's directorial debut.