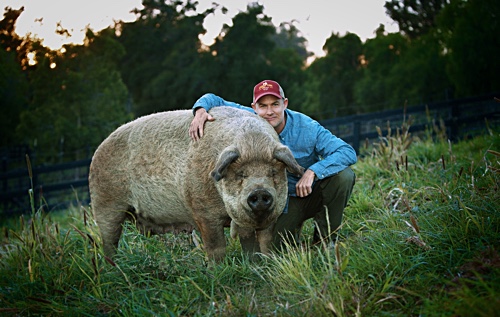 The Biggest Little Farm (2018)
★★★★ / ★★★★
John Chester's "The Biggest Little Farm" is a nature documentary that should be required viewing in schools because it is able to show the interconnectedness of life so clearly. It is one thing to learn about it in books, but it is on another level to see it unfold entirely. The film, which encompasses seven turbulent years, is funny, surprising, educational, quite sad at times, and it possesses to ability to make the viewer feel small, to inspire us to think about our place on this planet through the microcosm that is Apricot Lane Farms in Moorpark, California, an hour drive north of Los Angeles, a farm that was once so dead, the soil so dry, the new owners—John and Molly Chester—and their team had to build a station dedicated solely for composting in order to even have a chance of possibly reinvigorating 200 acres of land. I watched spellbound.
We are presented more than a dozen examples of interconnection and self-sustainability. For instance, the more cows brought and born into the farm, the more flies they attract since the cows produce more waste. The more flies there are, the more eggs they lay on excrement since the larvae requires nutrient-rich environment. And the more fly larvae, chickens could be brought in to feed on them. And so in the long run, farmers would spend less money on purchasing chicken food for hundreds, if not thousands, of chickens. The money could be used on other goods or investments… like bringing in more cows for meat, milk, and the like. It is amazing that although the picture offers a short running time of ninety minutes, it is incredibly efficient: we are provided one informative example after another without coming across like a lecture.
Also communicated clearly is why the Chesters decided to go for their dream of creating a traditional farm. "Traditional" meaning that diversity is paramount—a type of farm we see in children's movies like "Babe" and "Charlotte's Web." You see, most farms nowadays are monotype—an egg farm dedicated for raising chickens, for example. Most amusing is that an adopted dog named Todd essentially triggered the couple's decision to start actualizing their dream. And it is quite astonishing how the Chesters' lifestyle changed through the course of seven years, beginning from a small, cramped apartment in Santa Monica, CA to the wide open spaces of a farm full of life. The journey is fascinating and hard work—to say the least. Once there is a solution to a problem, more problems arise. It requires constant creativity to be able to keep up with creating a successful farm.
Prior to the making of this terrific documentary, Chester has had experience in film. He commands a keen eye for interesting and beautiful images like piglets and calves being born, butterflies leaving their cocoon to take their first flight, owls roaming the night sky, hundreds of ducklings squeaking in a tiny box. Beautiful, too, in my eyes, is manure filled with maggots—held by a hand wearing no gloves. We also see corpses of chickens having killed by coyotes during the night. I appreciated that the picture's idea of beautiful is not defined; it is interested in showing what is real and it is up to audience how to process the images they are given.
There is a joyous, celebratory feel to "The Biggest Little Farm" that I believe would appeal most to people who find a certain connection to nature. What is the movie about? It depends. Looking at it as a whole, I think it is about a quest for happiness. In the middle of the movie, the Chesters find themselves encountering so many issues on the farm—like pipe issues, toxic algae bloom, overpopulation of pests—but at the same time we consider the alternative: They could still be stuck in their tiny apartment in the city, their dreams still just dreams.