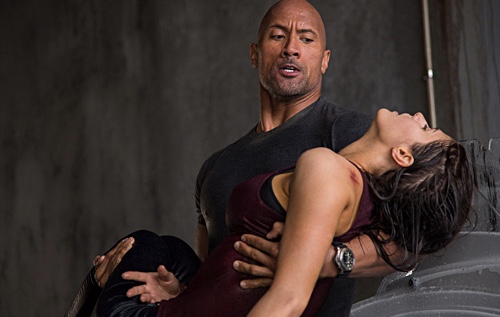 Skyscraper (2018)
★★★ / ★★★★
Those who may try to dissuade others from seeing the action-thriller "Skyscraper" may claim that its offerings have been done bigger, better, and more realistically in other films—and they are not wrong. Yet despite combined familiar templates of one-man missions and disaster flicks, it does not take away the fact that the highly energetic work, written and directed by Rawson Marshall Thurber, is entertaining, ludicrous, and highly watchable. This is big summer blockbuster that is not a superhero picture done just right.
The action sequences are surprisingly meticulous despite chaos and violence unfolding inside and outside the burning building in Hong Kong. Fistfights, for instance, are well-choreographed; they last long enough so that we appreciate every bone-crunching hit; and they are edited sharply but precisely so that the viewer always has a complete idea when it comes to what is happening to whom. Because the material bothers with the details, although the story is standard and uninspiring, it creates an impression that is worth investing our time and attention on it.
Although the dialogue is not its strong point, it goes out of its way to provide details about the tallest building on the planet, named The Pearl, such as its capability to generate and sustain its own energy, that it is three times as tall as the Empire State Building, the complex security and safety systems, its exact number of floors, how it is divided in half—its upper floors for residents while the lower floors for sightseeing and shopping. The script could have gotten away with simply stating—or showing a simple graphic—that the fictional building is the tallest man-made structure and no one would blink an eye. And so it is fresh, then, on two fronts: that it bothers with details and it uses some of these attributes to reward those who paid attention with words and graphics during the expository sequences.
Dwayne Johnson plays Will Sawyer who is hired to assess The Pearl's various levels of security before the owner (Chin Han) opens the upper-half for public residence. A stolen bag while on his way to an off-site facility escalates to an explosion, which appears to be a terrorist attack from the outside, on the floor where Will's family (Neve Campbell, Noah Cottrell, McKenna Roberts) is staying. The security assessor must find his way back to the building to rescue them after his face is shown on television for being the prime suspect.
A misstep lies in the utilization of amusing one-liners—there simply isn't enough of them. This could have been easily solved by having another pass at the script and noticing that they are so sporadic, when it is time to deliver the chuckles, it disturbs the tension in a negative way rather than giving us a chance to inhale while laughing at the silliness. While it is not meant to be an action-comedy, spacing moments of relief in action-thrillers is also critical. John McTiernan's "Die Hard" is a classic because comedy and tension depend on one another that is almost a balancing act on a tightrope.
"Skyscraper" functions on a lower level than the best of the genre, but it gets the job done. Its special and visual effects are convincing; particularly suspenseful are action sequences that unfold at great heights, especially when Will—prosthetic left leg and all—attempts to break into the burning building with the help of a construction crane's hook. It's preposterous and you can't look away.