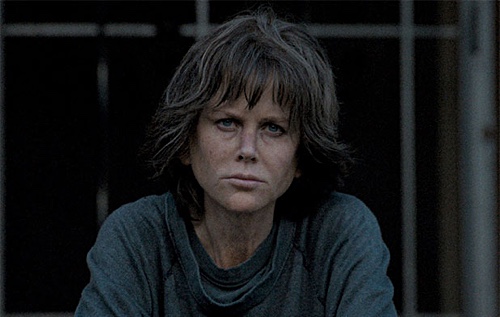 Destroyer (2018)
★★★ / ★★★★
Whenever the camera goes for a close-up—and the picture is fond of this technique—all I could see was the makeup plastered on Nicole Kidman's face. It is a shame because "Destroyer," a crime-drama about a detective so guilt-ridden by what happened seventeen years prior when she was still a green undercover cop, is a work that grips the audience by the throat and never lets go. Kidman fits the role wonderfully, capable of delivering a spectrum of emotions within a span of seconds. The moments when we are forced to look at Detective Bell's face are supposed to be strongest—appropriate because it is also a character-driven drama. And yet these moments turn out to be the weakest. I am flabbergasted that no one spoke up when it comes to the ineffectiveness of the cosmetics designed to depict age.
An argument can be made that without the incredibly distracting makeup, it would have further elevated Kidman's already ace performance. The thing about heavy cosmetics is that, when used wisely, it is capable of heightening a sense of realism. It is far from the case here. In this film, there are two strands: Bell, along with her ill-fated partner Chris (Sebastian Stan), as she infiltrates a gang led by a man named Silas (Toby Kebbell) and Bell as an angry alcoholic whose purpose is reignited when Silas resurfaces almost two decades after a bank robbery.
In the former, Kidman is provided minimal makeup and the little ticks and smirks communicate paragraphs—a good choice because the flashbacks tend to rely on succinct impressions. In a way, the lead performer, along with the sharp writing by Phil Hay and Matt Manfredi, must fill in the gaps between what we know will happen and the trauma that follows the character like a curse. There is a huge gap between this lively woman who is excited for her career and the walking scarecrow that scowls and makes her co-workers feel uncomfortable. With the latter situation, Kidman is essentially given a mask and it does her no favor. In fact, it serves as a barrier between the character and the audience—problematic because Bell is already a figure of few words.
The tightly constructed plot is well-paced as Bell follows clues that may lead to Silas. Seeing former partners-in-crime (Tatiana Maslany, James Jordan, Zach Villa) and forcing them to provide information is an act of exorcising the past; each succeeding person is more difficult to deal with that the last. Bursts of violence are expected, but they remain powerful when delivered. Credit to director Karyn Kusama for presenting violence in a matter-of-fact manner. Not for one second is it glamorized. Violence looks painful, it is loud, people get hurt or die. Those lucky enough to walk away from it remain touched by it nonetheless.
The heart of the picture is the shattered relationship between Bell and her sixteen-year-old daughter, Shelby (Jade Pettyjohn), who is dating a man in his mid-twenties (Beau Knapp). There is a diner scene in which the girl recalls a painful memory and Bell is touched because at least Shelby remembers something between them other than their protracted fights. It is the single honest moment between a child and her mother—during most of their interactions, one is usually disconnected. It is the moment when we realize Bell's gravest mistake: in pursing the past, she has forgotten to live in the present. Shelby is almost grown and she regards Bell as her biological mother but not the mother who was there to console, to give advice, to be there when it really mattered. Here is a portrait of a woman who feels so hollow, she might as well be dead.