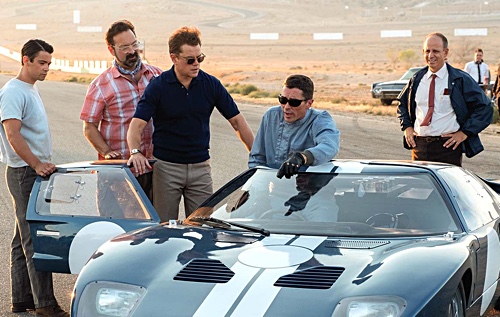 Ford v Ferrari (2019)
★★★ / ★★★★
I don't care for cars. I can admire one, if I try, for how it looks or how fast it is. But why does a brand, or make, or model matter when the point of the thing is to get you somewhere? I knew nothing about Ford or Ferrari, even less about their rivalry in the 1960s, but director James Mangold has helmed a sports drama involving race cars in a way that is human, entertaining, and accessible. It is not about cars but the people behind them: drivers, designers, businessmen who finance the endeavor of creating the greatest race car the world has ever known.
There is an excitement in Jez Butterworth, John-Henry Butterworth, and Jason Keller's screenplay. It is quick to establish why Ferrari must be crushed: These Italians are conniving, stuffy, up themselves. Reductive but an effective way establish a bar that must be met and then surpassed. The irony: The more we get to know the American executives working at Ford, we realize many of them are not unlike the Italians they are attempting to defeat. Quicker still is its skill in communicating who the central players are and why we should care for their stories, within and outside of the company they work under.
Christian Bale plays Ken Miles, a World War II veteran who fixes cars for a living. Miles' other half is not his wife (Caitriona Balfe) but a friend, former race car driver, and current car designer Carroll Shelby portrayed by Matt Damon. Notice the way these characters are introduced. They are more stubborn than two mules. Because of this, Miles and Shelby clash but they remain friends because they have learned to respect one another. So, it is critical that when we see them together on screen for the first time we feel there is already history there.
I certainly did and everything else after that, when it comes to the duo, is convincing. Sure, their partnership is challenged at times, which is expected from a drama, but the trials never feel so big as to be insurmountable. More often than not, their interactions are played for laughs; this approach works because Bale and Damon choose to play their characters with a certain cool. "I am this way, take it or leave it." One is less stubborn than the other. But only because this person has a better strategy in playing the long game.
Less impressive are fake Hollywood moments designed to stir up emotions. Particularly memorable is when Mollie, Miles' wife, decides to drive so recklessly, as if she were on a race track, because she knows her husband is not being honest with her about his desire for wanting to race cars again. This, and a few others like it (will the Ford executives allow the unwieldy Miles to race and represent their company in the 24 Hours of Le Mans?—we know the answer to this, so just get on with it), is not a convincing exchange because the attention is on the busy aspect of the action instead of the content of what is being discussed. (Will they hit a fence? A mailbox? A person crossing the street?) It would have been a different scene altogether had these two adults been talking in their living room or kitchen and there is only silence and disappointment between words. I did appreciate, however, that Mollie is written to be an understanding wife who knows her husband inside and out instead of a shrew who serves only to get in the way of her partner's professional goals or desires.
The centerpiece of the picture is, of course, the showdown between Ford and Ferrari. The 24-hour race at Le Mans could have been so tedious—how many times can two vehicles pass one another over the course of a day without getting… tiring (it's easy picking)?—but the filmmakers are correct to underscore the drama of what happens outside of the race cars. The title may be "Ford v Ferrari," but the juice is the in-fighting between company men and the outsiders they hired in order to lift these company men and their image so products can be sold and their bank accounts get fattened even further. That is what this movie is really about.