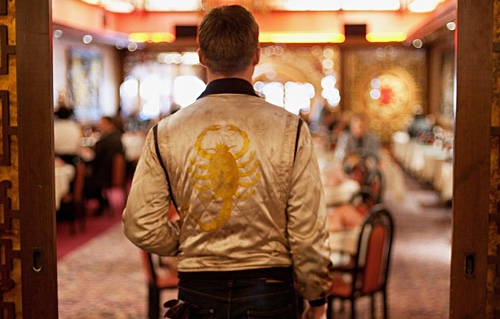 Drive (2011)
★★★★ / ★★★★
The carefully calibrated "Drive," based on James Sallis' novel, is not dissimilar to pulse-pounding thrillers like the Coen brothers' "Blood Simple.," Dominic Sena's "Kalifornia," and the Wachowskis' "Bound." These four films not only start off slowly, their premises promise rather standard fares. About halfway through, however, their curious stories start to take shape and their true forms are revealed. The protagonists are people who have their backs against the wall. They must survive or perish. What makes these stories compelling is not the template but the manner in which they are told. A case can be made that "Drive" is a mood piece above all.
This approach is almost necessary considering that our protagonist is mostly silent. He has three part-time jobs: a mechanic, a Hollywood stuntman, and a getaway driver. He is given no name. (I will refer to him as The Driver henceforth.) He values his solitude. He minds his own business. Strictly professional. Cold. Impersonal. When asked questions, answers can be found in his eyes or his body language. On the occasion he does speak, he gets to the point. Less than ten words with real intention behind each one. I cannot image anyone else playing The Driver other than Ryan Gosling. He will be remembered for this role.
An expected plot device: The Driver is shown to be capable of caring for others. Specifically, he grows attached to his neighbors: a waitress (Carey Mulligan) and her young son (Kaden Leos). His relationship with Irene and Benicio is handled with genuine humanity and a real sense of style. For example, typical lines of dialogue, which is a potential minefield of clichés, are muted. Instead, a synth-heavy soundtrack is placed over the action—robotic and repetitive on the surface but listen closely: lyrics are filled with sadness and longing. They find a connection precisely because of their loneliness. Irene's husband (Oscar Isaac) is in jail. It is expected, too, that he will be released just when The Driver and Irene begin to consider taking what they have a bit further. Clearly, tension is not always reliant upon car chases.
Car chases demand that we hold our breaths. It is not interested in good guys and bad guys shooting guns at each other. No, emphasis is placed on stealth as The Driver attempts to get his clients (often thieves) to safety within five minutes after leaving the scene of the crime. Notice that in these scenes, we are locked in the car with our protagonist. No score, no soundtrack. We hear breathing, gasps, tires rubbing against the pavement. It gets so silent and so still at times, we feel our chests pounding from anticipation. Eyes wide open. The work offers a first-rate experience. It requires skill, great timing, a real eye for action and reaction.
By the end of the movie, more than half a dozen people are dead and there is blood money. I'm not interested in introducing the players, but know this: they are played by terrific character actors like Bryan Cranston, Albert Brooks, and Ron Perlman. They know how to command a scene simply by standing in one spot and giving a look. There is wonderful chemistry among all the performers. I felt as though everyone had signed up for the film because they believed in it, that they actually wanted to be there and do the best job possible. It shows.
"Drive" is an ensemble piece. The chess pieces are moved into place in a way that is logical, exciting, and thrilling. Viewers might remember it for the violence—they are brutal, in-your-face, and real bloody. However, notice that these scenes often have a point. They are never gratuitous or glamorized; it shows, for instance, that a hammer to the hand is especially painful, that kicking one's face in is ugly and gross, that one car crashing against one another is loud and disturbing. In this story, violence is a means of survival.