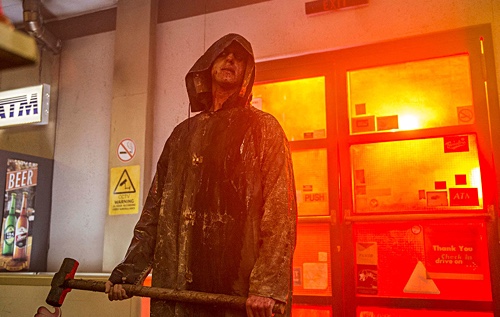 Open 24 Hours (2018)
★★ / ★★★★
Padraig Reynolds' "Open 24 Hours" thrives in brutality. When it goes all in with its violence, like showing a sledgehammer splitting open a person's skull like a juicy watermelon—Thwack!—it is near impossible not to flinch. It acknowledges that violence can be ugly, dirty, messy, and may not be for everyone.
But the movie is not simply a spectacle for gore or barbarity. I think its goal is to modernize the classic slasher—notice its slow buildup and willingness to allow private conversations to unfold. Still, I think it could have been a more potent piece of work had it gone further. For instance, employing unusual or interesting camera angles, playing with harsh or atypical lighting, circumventing the expected beats that lead up to scares, adding an extended heart-pounding chase sequence or two, crafting a killer score. Although I enjoyed the picture, and I am giving it a mild recommendation, I feel it is not special enough to be remembered ten years from now.
Perhaps it has something to do with that lazy, cliché, throwaway ending. Horror movies, especially modern ones functioning on a limited budget, have such a difficult time presenting a satisfying closure. Offering a final shock—even though it fails to make any sense or is completely inappropriate—has become the norm. I expected more from Reynolds, who wrote and directed the underrated but confident horror-thriller "Rites of Spring." Why not simply end the story in a way that feels right for the character, or characters, we're following? Why must there be a need to question whether a sequel might follow?
It is also possible that another reason why the picture fails to stand out among its contemporaries is because our protagonist, Mary (Vanessa Grasse), is not a heroine who can belong in the classic slasher films that the writer-director clearly admires. The interesting thing is we are ready for her to be a Laurie Strode ("Halloween"), a Nancy Thompson ("A Nightmare on Elm Street"), a Sidney Prescott ("Scream"), or even a Ginny ("Friday the 13th Part 2") because Mary has the backstory: she is a genuinely penitent ex-con, sent to prison for having set her former boyfriend on fire. And her ex just so happens to be the so-called Rain Ripper (Cole Vigue), whose modus operandi is kidnapping and murdering women when it rains. Mary was labeled by the media as The Watcher because for a time she knew about his… extracurricular activity but did nothing.
Grasse paints Mary as flawed but likable, still suffering from deep and unresolved trauma. Not to mention overwhelming guilt. There is one too many sequences where she experiences visual and auditory hallucinations even though these are executed rather well. When jolts come, you can tell that Reynolds is a fan of the horror genre. But it is most disappointing that when Mary is eventually hunted by the man she should have killed when she had the chance, we don't quite feel that fight in her. Detecting that fire within our heroine is so important in slasher films. A case can be made that such fire can make or break a movie.
The body count is surprisingly high in this film—especially because it is filled with kind characters. There is Debbie (Emily Tennant), a true friend who decides to stick by her pal and actively root for her when Mary herself feels like she's worthless. There is Bobby (Brendan Fletcher), a funny and caring gas station attendant who has been assigned to train recently hired Mary thirty minutes before her 10:00 P.M. to 6:00 A.M. shift. And then there is Tom (Daniel O'Meara), Mary's parole officer. He is tough on Mary, but we never doubt his reasons. O'Meara portrays Tom as a man who is tired of seeing ex-cons get sent back to jail for being foolish. There is not one line of dialogue that suggests this possibility; it is all in the eyes and how he carries himself.
"Open 24 Hours" is a tough call from the angle of giving recommendation to the general audience. It may not possess an original story, but it does a handful of things right. However, it is an easy call for horror fans: It is likely you'll find entertainment or value from it even though a. it is far from innovative from a storytelling point of view and b. it is not quite successful in shaping a modern slasher to be shortlisted as a standout for years to come. It has enough personality and flavor to sustain a hundred minutes—and sometimes that's enough to scratch the itch.