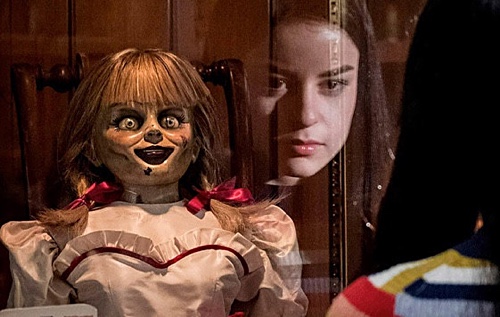 Annabelle Comes Home (2019)
★ / ★★★★
Gary Dauberman's "Annabelle Comes Home" is a series of missed opportunities. Instead of developing a fresh story surrounding a young girl who appears to have inherited her mother's ability to communicate with the dead, the screenplay proves to be more interested in delivering the usual tropes and tricks of generic horror pictures. What results is a two-hour slog, a literal house of horrors in which the characters run around screaming as things pop out of dark corners, but not one of them ends up seriously hurt, dead, or even remotely traumatized. Here is a scary movie without consequences. By the end, one cannot help to ask, "What's the point?"
Vera Farmiga and Patrick Wilson reprise their roles as Lorraine and Ed Warren, demonologists who travel the world and keep items that are cursed, possessed, or have been a part of rituals right in their own home. Although they retain their wonderful chemistry since their first appearance in James Wan's "The Conjuring," a significant difference can be felt in the obvious and simple script. Notice that no matter how hard Farmiga builds the mystique of her character, it is impossible to take Lorraine seriously because there is no subtlety in the words the performer is required to say. The beauty about Wan's original film is that there is so much left to discover in the unsaid. I felt as though Dauberman did not understand this. It does not help that Farmiga and Wilson are only in this project for a total of about fifteen minutes—tops.
Judy Warren (McKenna Grace) should have been a fascinating character since, based on the movie's premise, she is essentially Lorraine's younger self. Judy is an outcast at school not necessarily because she's weird but due to her parents' reputation of possibly being con artists. Either that or her classmates' parents believe that the Warrens are all about death, evil, and demons. Grace is a good choice as Judy; she is wonderful not only at looking scared but evoking an aura of wise beyond her years. During quieter moments, it is impressive that the young performer is able to communicate Judy's fear of her childhood slipping away—precisely because the screenplay does not bother to tackle this potentially fascinating insight to this specific character. She does it on her own. I think she is one to watch.
Scares are neither creative nor inspired—with the exception of one scene. It is established early on that the Annabelle doll is a beacon for spirits. And so when it is placed in the same room as the other occult collectibles—a bracelet, a samurai armor, a wedding dress, and the like—it is especially dangerous since it may animate the relatively inert items.
The most memorable sequence involves babysitter Mary Ellen (Madison Iseman) finding her way through the dark as coins drop on the floor all around her. We know—and she knows—that the coins were from the Ferryman case. According to the file that Judy, Mary Allen, and Daniela (Katie Sarife) read while Ed and Lorraine are away on business, these coins are placed on the eyes of the deceased so their spirits can pay the toll and be allowed to move on to the afterlife. I enjoyed the build-up of this scene, particularly in the effects of shining coins floating about in the darkness. The only weapon that appears to keep the spirit away is a flashlight. But we all know what happens to flashlights during the climax of such encounters.
The work is also guilty of sudden tonal shifts executed so poorly, it threatens to derail the experience. In order to lighten the mood, attempts at comedy are made. This comes in the form of Mary Ellen crushing on a boy at a grocery store (Michael Cimino), vice-versa. I was so far from entertained by the horror elements to the point where I wished I were watching a romantic teen flick about Mary Ellen and Bob. At least then the awkward but cute chemistry they share could have been used for a better cause.