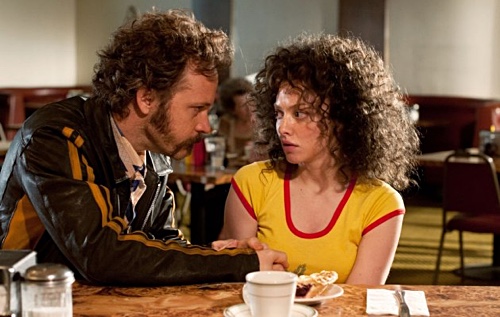 Lovelace (2013)
★★ / ★★★★
Before bearing the stage name Linda Lovelace and starring in Gerard Damiano's pornographic picture called "Deep Throat," twenty-one-year-old and somewhat of a prude Linda Boreman (Amanda Seyfriend) meets Chuck (Peter Sarsgaard) outside a roller skating rink and she is quickly won over by his charm. Soon enough, Linda decides to move out of her parents' house and gets married to Chuck. When money becomes a problem eventually, Linda's well-connected husband convinces Damiano to allow her to star in an adult film that will eventually gross over half a billion dollars.
Though "Lovelace," directed by Rob Epstein and Jeffrey Friendman, is wise to avoid a hyperbolic route in telling Linda's tragic story, it is limited by an unimpressive screenplay by Andy Bellin. It employs an unnecessarily confusing non-linear approach disguised as so-called complexity, but just about anyone with a discerning eye is likely able to see right through the fog. Why not just tell the story straight?
The first half is not especially strong but it is somewhat engaging because Seyfried's saucer-like eyes embody a vulnerable, girl-next-door innocence. It is critical what we believe that the lead character is just like any other girl living in suburbia so we feel some sort of impact once we see her thrusted into a world of unblinking cameras and men who think with something else other than their brain. There are times when I wanted to protect and nurture Linda as if she were a wounded bird.
But the pacing is unforgivingly fast in that it fails to allow us to absorb small but important moments. It races to the making of the infamous pornographic movie and slows down significantly. Not allowing us to spend enough time with the important people in Linda's life before her superstardom is a problem because we have but a tiny understanding, mostly based on assumptions, as to why people are acting the way they do. As a result, for the most part, Linda's father (Robert Patrick) appears largely absent while her mother (Sharon Stone) comes off vindictive and controlling. Patrick and Stone have one or two good scenes but there is only a thin dimension to their characters as a whole.
It switches gears halfway through by going back to the beginning of Linda and Chuck's marriage in order to provide an alternative view when it comes to the dynamics of their relationship. This is a miscalculation because there are more than enough clues—some very obvious—that point to an unhappy union. Explaining every detail disrupts the rhythm of the story being told and I found myself questioning when it would eventually move forward.
I wanted to see more interactions between Seyfried and Juno Temple, the latter playing Linda's best friend named Patsy. I suspected a lot of their scenes did not make it through the editing room because some of the scenes that did make it onto the final cut hint at a possible arc. For instance, in the first half, Patsy is almost reckless in pushing Linda try to new things. In the latter half, she actually hopes that her friend will take the time and consider her options.
It is most unfortunate that the material's priorities are, for the most part, misplaced. A person's story is best told through subtleties so that the audience can appreciate what makes his or her trials special enough to warrant being put into celluloid. Though "Lovelace" has good performances all around, the screenplay is simply not ready to dig through hidden depths.