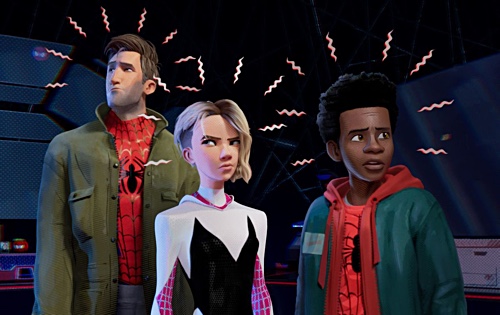 Spider-Man: Into the Spider-Verse (2018)
★★★ / ★★★★
Here is a superhero animated picture in which the action sequences are less interesting than the world and characters it creates. In the middle of it, I was so dazzled by both its visual and writing creativity that it made me wish more animated films, especially those targeted toward young children, worked hard to deliver high quality entertainment, not just another poop or fart joke, another tired pop culture reference or in-jokes. Those involved in "Spider-Man: Into the Spider-Verse" could have relied on name recognition to rake in profit, and so it is all the more impressive that they actually offer the audience a special experience.
Right from its opening moments, the film is filled with personality, from the music playing in the background, the many colors and cultures of people going about their daily activities, to the attractive and thrilling style of animation employed that tells a story of several Spider-Man (-Men? -People?) and multiverses. Blink or tune out for a second or two and risk missing a reference to previous Spider-Man iterations. Its crackling energy is breathless. We feel the need to catch up to it.
The plot is told through the eyes of Miles Morales (voiced by Shameik Moore), a teenager from Brooklyn, New York who is about to start a new chapter in a private school he is not excited to attend. (He passed a test to gain entrance.) But he trudges on anyway because his parents (Luna Lauren Velez, Brian Tyree Henry) expect him to take the opportunity and make something of himself. A great admirer of Spider-Man (Jake Johnson), protector of New York City, it is to Miles' great surprise that their paths cross one night which involves the masked hero attempting to prevent a team super villains from opening up portals to other dimensions. Needless to say, the endeavor leads in failure—with both tragic and hilarious results.
Credit to screenwriters Phil Lord and Rodney Rothman for making the correct choice to write Miles as an active character. It would have been easier—and boring—to paint him as a passive, wide-eyed observer who just so happens to stumble upon wonderful discoveries and adventure. Although the central protagonist faces a group of Spider-Man eventually, his lack of experience and youth are told from the perspective of potential rather than a hindrance. When he fails, we can laugh at his lack of physical prowess and knowledge of being a superhero, but there is not one moment when we feel annoyed by him or think that he is a waste of space, especially when standing next to his more impressive counterparts.
The results of dimensions colliding is interesting, but I felt it could have been played with further. For instance, there is Spider-Man Noir and he comes from a universe of black-and-white, constant rain, mobsters, and subterfuge. It might have been funnier if elements of this world had been fused into Miles' Brooklyn neighborhood. The melding of vastly different style of animation could have been spellbinding. Another version of Spider-Man came from the future. I wished the people in Miles' universe had had a chance to interact with and react to the bizarre happenings of late.
Despite all the noise, incredible technologies, and rambunctious confrontations, the heart of the story is tethered to the teenager who wishes to find purpose. The adventure is a metaphor for the trials and tribulations many young people go through before they come to realize that what they have to offer, big or small, is good enough. A life-affirming film, it offers a message to its target audience: It is good to be alive and make a difference.