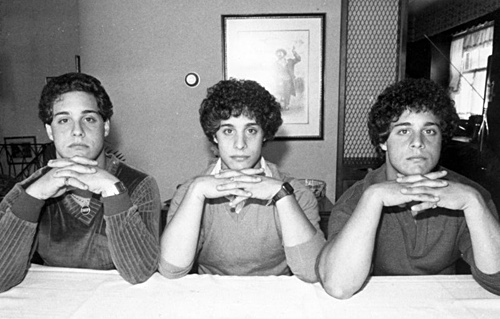 Three Identical Strangers (2018)
★★★★ / ★★★★
During the opening minutes of this fascinating documentary I thought, "So what? It is not unique for adopted identical twins, separated at birth and having no knowledge of each other's existence, to cross paths despite the improbability of it." But patience proves to offer big rewards as director Tim Wardle threads together numerous compelling reasons why his subjects are special: they are pieces of a bigger puzzle filled with curious implications about the age old debate of nature versus nurture. But that it is not all. The work is also a look at the darker side of acquiring knowledge, when ethics and morality are taken out of the equation in the name of science.
The material's jagged edges can easily be overlooked at times because of how entertaining it is. Learning about the triplets when they met at nineteen years of age is highly amusing: they all smoked the same brand of cigarettes, they were a part of the wrestling team in high school, and they had the same taste in women. Robert, Eddy, and David—raised in a wealthy family, a middle-class family, and a blue-collar family, respectively, look so identical, it is a big challenge to tell them apart in home videos and photographs. Their collective energy was so infectious, I caught myself smiling because of how happy they were to have found one another. It is interesting to learn about them through one-on-one interviews in addition to those who know them most.
At times it is capable of offering great insights regarding its subjects. An immediate standout involves a fallout among the brothers after they established a successful business post-fame and celebrity. An interviewee makes a point that because the siblings met as adults, they did not have a chance to be around and learn about each other as children—which includes how to weigh each other's personalities, temperaments, and point of views as siblings who grew up together would have. And so despite their many similarities in likes, dislikes, and mannerisms, they are, essentially, strangers when there is considerable conflict.
The manner in which the material is put together likens that of a subtle thriller. It is always evolving, its pace full of zeal, and it commands a constant forward momentum. Later surprising revelations underline seemingly throwaway information encountered earlier on. Notice the way in which the second half is edited. Intercutting among aging faces, potentially crucial documents, and foreboding city skylines are more prevalent. Frantic. And yet—it is not afraid to slow down to a halt, to be patient when a person being interviewed is recalling a painful memory or trauma. It never loses track that despite the big picture no longer solely being about the triplets, it remains to be a humanistic piece.
This is just the surface. Yes, it touches upon parenting, heritage, and identity. Still, so little can be said about "The Identical Strangers" without revealing its more sinister and chilling themes. I refuse to delve into them because discovering these elements is most engrossing. The documentary's premise is feel-good, but once the layers have been peeled off, it is a challenge not to feel angry at the many injustices, for the lives lost and scarred forever. As the end credits start to roll, one gets the impression there are more secrets to be revealed at a later time. I hope to be around in 2066.