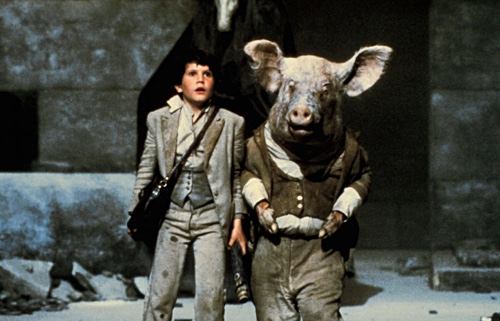 Time Bandits (1981)
★ / ★★★★
Fascinated by the contents of his books, it is most opportune that Kevin (Craig Warnock) crosses paths with a group of six dwarves on the run from "the supreme being" (Ralph Richardson), insisting that they return the map because they do not understand the full extent of its power. The artifact allows those who can read it properly to be able to visit different times by jumping inside so-called time holes. However, the dwarves, led by Randall (David Rappaport), use it simply to enter different eras and steal riches.
It easy to see why "Time Bandits," based on the screenplay by Michael Palin and Terry Gilliam, has ardent fans. It is silly, has a good amount of imagination, quite unpredictable at times, and the visual effects are so retro that I could not help but be reminded of dubbed Japanese television shows I used to watch as a kid. But the film is not very good. Its greatest limitation comes in small sizes and, boy, are they difficult to endure.
The dwarves function as mere decorations and they are allowed to talk too much without actually saying or doing anything of value. Aside from Randall, the one who keeps the map, we learn nothing about the dwarves other than they like their treasures. They think the same way, act the same way, and talk the same way. They are dispensable and when one's life comes in contact with danger, I found myself rooting for him to stay dead. That way, perhaps there would be one less annoyance stumbling and bumbling about on screen.
The main character is supposed to be Kevin but he is drowned by many distractions. I enjoyed seeing his home life: when he has something to say about what he has just read, how his parents do nothing but comment on the latest gadget or appliance advertised on television. The story is supposed to have been the value of Kevin's adventure, how a boy with no one to mirror his interests gets a first-hand experience on subjects that captivate him. He meets various figures like Robin Hood (John Cleese), Agamemnon (Sean Connery), Napoleon Bonaparte (Ian Holm), among others and watching his reaction upon meeting the people he has read about is magical in itself. Instead, the babbling dwarves are often front and center and they water down his experience.
The sets are quite beautiful even if a lot of them are obviously shot in a studio. I admired the gothic look of the Fortress of Ultimate Darkness where Evil (David Warner), who wishes to claim the map from the dwarves to rule the universe, resides. By contrast, I liked the brightness of Mycenaean Greece. I could not help but notice the seemingly never-ending desert, how yellow the sand appears and how hot it must have been to be in that environment. It is important that the setting of that period appeals to the audience because Kevin himself wishes to stay there. I wished the screenplay had exploited a level of sadness underneath the child wanting to stay with a stranger, Agamemnon, in a foreign land and time rather than to be reunited with his parents again.
This is another crucial problem with the film: it is unwilling to break away from the expected and stale comedy. The best journeys cover a spectrum of emotions. Here, there is only a thin layer of wonder and attempts—mostly ineffective—to make us laugh. The material would have been much better if Kevin had been left to his own devices so we could measure how smart and resourceful he was. I wanted to see how he could apply the knowledge he had accumulated from books to get himself out of prickly situations.
Directed by Terry Gilliam, "Time Bandits" is appropriately titled in that I felt as though my time had been stolen. It is not all bad but a lot of it feels like a waste of time, recycled material from better, edgier, more thoughtful fantasy-adventures.

O Lucky Man! (1973)
★★ / ★★★★
Malcolm McDowell and Lindsay Anderson team up once again in "O Lucky Man!" a sequel to the exemplary "If…" McDowell plays Mike Travis, an ambitious and enthusiastic coffee salesman whose main goal is to attain financial success. I thought it was very interesting how he seems like a force to be reckoned with in the beginning of the film, but as it goes on and meets quirky, greedy and insightful characters, he seems so insignificant in comparison. Although its premise is a commentary on the evils of capitalism, the dry and dark humor are consistent. Although I didn't understand some of the jokes because I don't know much about business and economics, the ones I understand are clever and have a staying power that's still relevant today; especially now that competition is at its peak and the American economy is not doing so well. This film's strength lies in its surrealism: some of the actors play multiple characters (Ralph Richardson, Rachel Roberts, Arthur Lowe…) and the events that unfold are extremely out of the ordinary and a bit random (such as the medical facility that use human subjects). I also enjoyed listening to Alan Price's songs because they reflect what Mike Travis is going through yet at the same time comments on where he should be going. However, I felt like the film digressed too much. Despite Mike Travis' adventures all over England, I feel as though he didn't make any genuine human connection that could potentially warrant his change-of-heart during the film's third act. Yes, he did have inspirations from poets and philosophers but I feel like those aren't enough to change a person, especially a person who's obsessed with climbing the economic ladder despite everything that's put on his way to distract him from that goal. The most interesting character, other than Travis, was Patrcia (played by Helen Mirren) and I wanted to know more about her. In the end, I feel a certain disconnect from this picture–which is strange because, when it comes to films that run for about three hours, I usually feel a certain inclination for the project. "O Lucky Man!" is an unfortunate exception despite its intelligence and brilliant acting from McDowell.