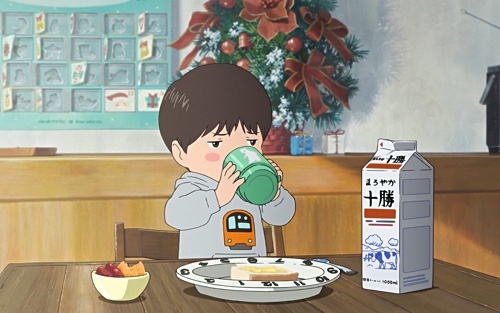 Mirai (2018)
★★★★ / ★★★★
"Mirai" proves to be the kind of picture that sneaks up on you. Its plot did not impress or surprise me in any way: A four-year-old (voiced by Jaden Waldman) is unhappy with the fact that his parents (John Cho, Rebecca Hall) must now divide their attention between him and his newborn sister. It is a template from hundreds of movies aimed at or for children; during the first twenty minutes or so, I questioned whether the material would be daring enough to veer off into a different, unexpected, or more interesting direction. Somehow, almost miraculously, it did—not just in one direction but many. The work is written and directed by Mamoru Hosoda with insight, empathy, and perspicuity. Here is an example of a story with a simple plot but the depth of what it is actually about is filled with great emotions and wonder.
The story unfolds in an episodic manner—appropriate because 1) it captures how we, as adults, tend to remember our childhood and 2) how children can relate most to overpowering emotions, even when they do not necessarily comprehend them, particularly when in conflict with siblings or parents. In a way, Kun's journey toward becoming a more self-aware individual must be executed precisely as such because our lives are composed of fluctuating and colorful impressions. And although the storytelling unfolds this way, there is a distinct rhythm to it, the pacing is constant, tension builds, and the wisdom it imparts are precise but never preachy.
There is magic in the film which comes in the form of an oak tree in the backyard. It has the power to send people into the past, present, and future. It seems to be triggered by intense conflict among family members, particularly the boy's relationship with his parents and baby sister. Ironically, however, this is the least extraordinary element. More astounding is, for instance, how simply going through a family album demands curiosity despite the medium being animation.
Patience is employed, combined with a relaxed energy, when we must observe characters remembering who they were or loved ones who have died. When someone points at a face on a photograph, we cannot help but wonder about him or her because each picture is vivid with both details and personality. Even when a group photograph is shown, notice how each expression is different even just slightly. It feels like going through an actual photo album. Kun's family history feels vibrant, alive. There is a moving sequence when Kun meets his great-grandfather as a young man who loves horses and motorcycles.
Perhaps the most enchanting chapters involve the boy realizing that his parents were once young, too. They had lives before he was born, they had dreams, they nurtured hobbies, they grappled with failures and sadness. Kun throws temper tantrums when he does not get his way—but not always. The decision to write the character in an unpredictable fashion forces us to anticipate how he might react given a set of challenges. The sharp screenplay possesses subtle ways of reminding us of his growth—incremental most of the time but with occasional leaps forward. The boy keeps silent about having the chance to peer into his parents' youth, but we recognize the exact moments when he begins to regard them differently.
Told at a child's eye level, figuratively and at times literally, "Mirai" inspires us to love our loved ones a little more, to consider why they are the way they are at times. It is a work that can be enjoyed by the entire family. I think children would not only enjoy it, it might inspire them to look through photo albums and ask about each person's story. The film is a celebration of life.