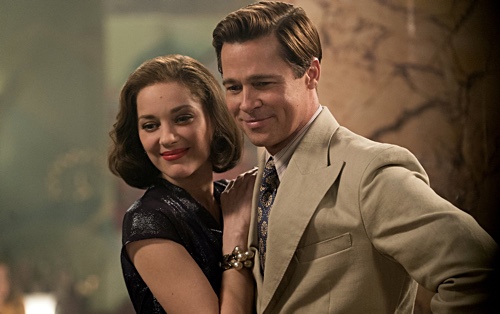 Allied (2016)
★★★ / ★★★★
Robert Zemeckis' "Allied" wears the spirit of a 1940s picture, so beautifully detailed in nearly every aspect. With its ability and willingness to unfold slowly, it dares us to appreciate the minutiae, from the material of clothing and how it matches with or contrasts against walls or sides of buildings to the subtle interior changes a character goes through upon learning information that might lead to a reassessment of a relationship. Here is a film that has an intriguing story to tell where no easy solution is offered. Had screenwriter Steven Knight been less ambitious, it would have turned out to be just another spy thriller and a hunt for a mole.
Brad Pitt and Marion Cotillard portray an intelligence officer and a French Resistance fighter in World War II, Max Vatan and Marianne Beauséjour, who are assigned in Casablanca to assassinate a Nazi ambassador. It is apparent that the two experienced dramatic performers enjoy their roles for they infuse a high level of energy behind every body language and between exchange of words. And coating their enthusiasm for the roles is a frisky elegance, so joyous to watch and think about because these are characters who at times do not say exactly what they mean. They come across as real individuals who just so happen to belong in a world of secrets and lies where differences could mean life or death.
The first half of the film comes across as an extended exposition. Although it may bother or annoy less patient viewers who crave action from the get-go, I was completely enraptured by its rhythm, long silences, and knowing glances. The material provides a realistic situation of how people may act around one another when handling a top-secret government assignment. Equally important during this hypnotic first hour, we get to a chance to ascertain who is the better tactician depending on the occasion. Max and Marianne's respective approaches to complete a task differ greatly sometimes. And through their differences we recognize specific reasons why are attracted to one another eventually.
Although still intriguing, the second half is less strong by comparison. With the story moving away from exotic Casablanca to London, the locales are not as exciting visually. Perhaps the intention is to shift our focus from environment to increasing internal struggles, particularly of Max receiving news that his wife is possibly a German spy, but there is a way to pull off such a strategy. One way is perhaps to amplify the human drama. Instead, the dramatic core, while able to offer surprising details at times with its elegant screenplay, it remains as subtle as a flickering ember rather than a full-on blaze.
The suspense is embedded in how much we have grown to care for the characters. This is a challenge because we go in with the assumption that it is going to trick us somehow, or try to at the very least, since, after all, it is an espionage picture. But because those behind and in front of the camera choose to treat the material seriously and with respect, genuinely committing to a sub-genre that is not foreign to a spice of melodrama, it works somehow. Those who jump in with an open mind will be pleasantly surprised.