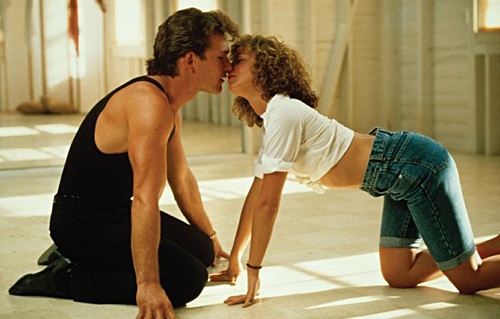 Dirty Dancing (1987)
★★★ / ★★★★
His first vacation in years, Dr. Jake Houseman (Jerry Orbach) takes his family up on the Catskills to spend a couple of days at a luxurious hotel resort. It seems like just another summer of fine dining and outdoor activities until Baby (Jennifer Grey) lays her eyes on Johnny Castle (Patrick Swayze), a dance instructor, while snooping around a staff meeting. Soon, it becomes a summer of learning and growing, as a tyro dancer as well as a young adult, when Baby volunteers to be Johnny's last-minute dance partner.
If taken under a scope of a serious drama, "Dirty Dancing," written by Eleanor Bergstein, seems forced and phony. The conflict between the rich (the guests) and the poor (the workers) does not have a strong enough core that we can gravitate toward. When it forces us to feel something, the melodrama is cringe-inducing at times. However, as a dance picture, it is impressive, romantic, playful, with a whole lot of verve to spare.
It dives into showing the dancing almost immediately. The scene where older men and women dancing is not particularly well-choreographed—and I don't think it is meant to be—but it helps to get us into the mood by giving us a sense of place and time. The summer of 1963 is filled with great music, optimism, and a certain openness—to a degree—for the new.
The film captures female sexuality with a precise subtlety. Particularly memorable is the end of the scene when Baby and Johnny dance for the first time. When the song ends, he leaves the dance floor but she is so into the moment that she remains to dance for a couple more seconds. When they are together, we take notice of their body language—individually and as a pair.
But from the moment Johnny steps off, our attention is less on the steps and more on the fact that Baby is turned on by the way her partner touches her, guides her, and encourages her. It is sensual, never sleazy. She looks like a woman underneath the warm lights. And when she finally does realize that he is no longer in front of her, she stops dancing, looks around, and is embarrassed. Not for dancing alone. But for having shown that she is excited sexually by her crush. She is back to being a girl.
I think that is why the material works. For the majority of the time, instead of watching a blossoming relationship between two equals—equal in age, maturity, and status—they seem an unlikely fit. Not only is Johnny at least three to five years older, but Baby, seventeen years of age, does not have the maturity and life experiences of an adult. She gains some throughout the picture, a believable evolution, but they are never on the same level. So when the story ends, it leaves us wondering how it will (or will not) work out.
When the material tries to deal with its subplots, it feels too much like an after school special. A father's high expectations, an abortion headache, a boring suitor, among many others are not only tired but also atonal. They might have had room in the picture if the writing had given the characters—and their situations—more depth and dimension.
Directed by Emile Ardolino, "Dirty Dancing" is a fun time with great dancing and music. Even the extras watching the detailed dancing have big smiles across their faces. The central performances by Grey and Swayze are magnetic because the actors have palpable chemistry. They manage to be sultry without hamming it up.