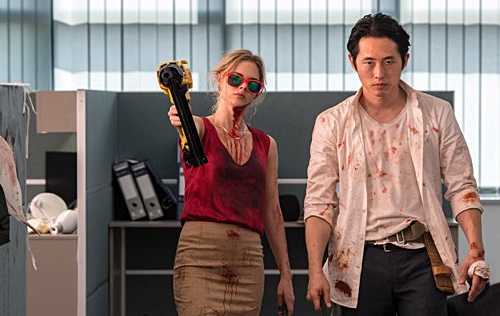 Mayhem (2017)
★ / ★★★★
Joe Lynch's action horror-comedy "Mayhem" is supposed to be a satire of toxic corporate culture. But what is the point of it when there is no venom behind its sting? What results is violent but pointless movie that finds itself unable to move past its initial idea; it is a classic case of a film that never stops beginning, a bore, redundant, in desperate need of rewrite. Halfway through, I couldn't help but feel sorry for co-stars Steven Yeun and Samara Weaving, talented performers with charm to spare but are given nothing to work with and so they rely upon histrionics in order to create a semblance of character substance. Matias Caruso's screenplay is not worthy of their talent.
ID-7 is a virus that readily infects people, rendering them unable to control their deepest, darkest impulses. It is also called the "Red Eye" virus given that those infected tend to exhibit pink eye. There is no cure; it goes away on its own or it can be alleviated using a neutralizing agent. This is all the information we get concerning this virus—presented during the first fifteen minutes. Just like the dead script, neither the virus nor the concept behind it fails to evolve. Because of this, the material is drained of intrigue over time. Eventually, we are left with only violence.
Even then the violence is not all that entertaining. Recently fired Derek (Yeun) must fight his way to the top floor in order to try to get his job back. Surely if he could get an audience with the CEOs, they would be sympathetic to this plight. Naturally, he must face-off against those involved with his firing, from those directly responsible for placing blame on him regarding a botched multimillion-dollar case (Caroline Chikezie) to those who have knowledge of the facts but decided to look the other way (Dallas Roberts).
Scissors to the hand, fire extinguisher to the face, saw into a chest cavity—bloody, brutal, shock and awe. The camera moves with energy and seeming purpose, but the screenplay and the editing lack the synergy (and rhythm) required for these sequences to actually be engaging. Since there is a constant air of superficiality, violence often comes across fake and forced. Its shortcomings are especially apparent when Derek and Melanie (Weaving), a client whose home is on the verge of foreclosure, must take on a horde of office workers. There is lack of discipline in the framing, action beats, and catharsis. It's all so exhausting and boring.
Thoughtful viewers will pick up on the possibility that the filmmakers have failed to ask themselves, "What's the heart of the story we're telling?" This should have been an accessible, relatable movie because millions of people out there work in soul-sucking jobs, thankless jobs, unrewarding jobs—which is not limited to being in an office or sitting in a cubicle. And that breeds anger—in oneself, toward others… So why isn't the picture more in touch with its humanity? That is because it is easier, you see, to create images of destruction than to show violence within. Since this film is afraid to explore the latter, what we do see—which is the former—offers nothing worthwhile. Just empty busy work.