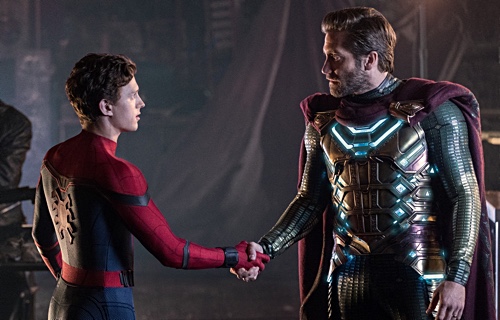 Spider-Man: Far from Home (2019)
★★ / ★★★★
If there was a "Spider-Man" picture that befits an overwhelming amount of special and visual effects, "Spider-Man: Far from Home" is it considering the fact that the main antagonist, Mysterio (Jake Gyllenhaal), specializes in creating the most convincing illusions. But those searching for a compelling and mature narrative should look elsewhere, especially since this chapter is right on the heels of a certain character's death who was particularly close to Peter Parker/Spider-Man (Tom Holland). Instead, the material focuses on a more convenient route: Peter's numerous struggles during a science trip across Europe to find the courage to tell MJ (Zendaya) he is interested in her romantically. An argument can be made that this installment, directed by Jon Watts, is a romantic comedy down to its marrow. Missed opportunities abound.
The school trip is forced and unfunny, interminable, a chore to sit through because the actors themselves look bored with what they've been handed. While Holland's boyish charm is consistently on an eleven, matched by Zendaya's effortless allure as the sarcastic romantic interest, even he is unable to save a tired screenplay from feeling fresh. There are two or three instances when Peter, finally, acknowledges the untimely death of the man he looked up to on several levels and these are the shining moments of the film because the emotions are raw, immediate. It feels right that the mourning must be purged somehow. On top of this, it shows that Holland is a dramatic performer first and foremost—that once he retires the Spider-Man suit, he can have a career with longevity. The writing is not equal to its lead's obvious potential.
It is a shame, too, because the villain is still interesting this time around. In "Homecoming," the audience is made to understand and empathize with the man behind the Vulture persona. Here, Mysterio has an excellent point when he claims that a person can be the smartest man or woman in the room but without flair or theatrics he or she is likely to be ignored. Qualifications and experience don't matter next to someone else who is simply loud or obnoxious. If that isn't a critique of our society in this day and age, I don't know what is. This is a fascinating character because he desires what most people desire: to be seen, to be recognized, to be regarded as important. Gyllenhaal knows that he must ground a character whose actions may across as narcissistic and megalomaniacal.
The action sequences bored me. There is not a single one that pushed me to lean a little closer to the screen. Particularly uninspired is final showdown in London. Spider-Man finds himself attempting to destroy countless drones before any one of them gets a chance to shoot him. It is extremely frustrating to sit through because one gets the feeling that the screenwriters, Chris McKenna and Erik Sommers, have forgotten to show the viewers why the protagonist having to sift through hordes of small robots is actually interesting. There is fifteen to twenty minutes worth of acrobatics and every second feels empty. It is obvious, too, which shots are CGI. One isn't required to try to be able to recognize them; maybe it's because the filmmakers didn't try either. I felt no weight or real danger during the action scenes. I looked at my watch twice.
Although not without its charms, it is clear "Spider-Man: Far from Home" is an inferior sequel. Just because Peter Parker is still a teenager does not mean that his story should remain light and silly. It can still offer funny moments of awkward teenagers simply trying to find themselves. And it should; it is highly appropriate in this version of Spider-Man. But the more daring and wiser choice would have been to tackle head-on the sadness our hero feels for losing a father-figure, a colleague, a mentor with whom he deeply respected. Learning to deal with loved ones who passed is a part of growing up, too.