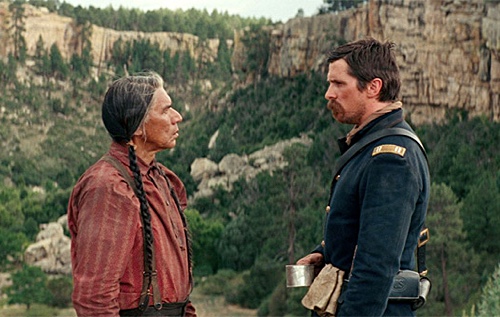 Hostiles (2017)
★★★ / ★★★★
The western genre is often romanticized to such an extent that it has gotten tedious and so it is a cold splash of water on the face when a work a comes along without the expected ornamentations. Instead, writer-director Scott Cooper focuses on the harsh trials of a journey and the people with harrowing histories who harbor deep and sharp prejudices. We wonder if, in the face of great adversities, external and internal, they would be able to put aside their differences in order to make it to where they need to be. More importantly, might a temporary armistice bring about a more permanent shift in one's perspective?
As far as plot goes, it is typical in that a white man of rigid countenance must escort a person, or persons, of lesser power to a specific location, often across several states on horseback. Specifically, Captain Joe Blocker (Christian Bale) is ordered by his superior (Stephen Lang) to take former war chief Yellow Hawk (Wes Studi) and his family to Valley of the Bear, Montana so the old man, imprisoned for seven years and now dying of cancer, can live his final days with his tribe as a free human being. Despite Blocker's insistence that he is not at all the right person for the task because many of his friends were murdered by Yellow Hawk, the president's wish is not a request. Tension builds as Blocker's company dwindles due to ambushes and severe miscalculations.
This is a story about loss and the profound psychic gashes it leaves for time to heal over but not mend completely. I admired that the screenplay commands subtlety in reminding us that every character is hurting in some way, that there is no villain other than what we create for ourselves sometimes and how, compared to an external force, this ideation that we peel into and pick apart can be more devastating shall we allow it. It is surprisingly thoughtful in parts, particularly when a lieutenant (Jesse Plemons) opens up to a superior (Rory Cochrane) after a life-defining experience. Notice how this standout scene is drenched in shadows, right after the sun had just set. This smart eye for visuals coupled with its nearly glacial but purposeful pacing provide the viewer time to ponder and consider the film's thesis.
Bale delivers yet another strong performance. I loved how he is able to tap into a rather stoic character and finds gradation within the quiet, reserved man who is a soldier through and through—even when he talks of retirement. When those eyes refuse to blink in order to get a point across, the camera remains still, staring back, daring us to wonder what Blocker might be thinking or which course of action he is about to take for the group. As characters enter and exit the story, Bale's solid performance is rooted in the middle of it all and so we never feel lost despite the changing faces.
Another standout is Rosamund Pike who plays a woman whose entire family is murdered by a Comanche war party. While she has the showier performance, the power behind her presence and complex emotions complement Bale's interpretation of Blocker.
"Hostiles" is not for everyone, even for the fans of standard westerns. But such atypicality is what's exciting about it. The harsh wilderness is only one of the many elements that can kill a person. It also shows that time and life experience can render one so weak that there comes a point when a person is long dead even before he takes his last breath.