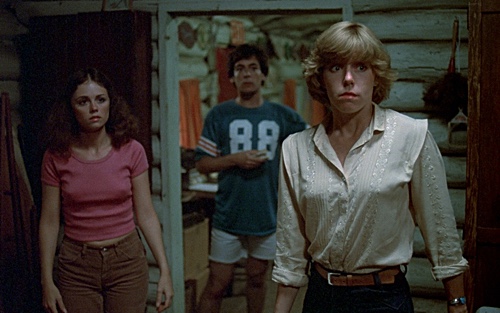 Friday the 13th (1980)
★★ / ★★★★
A drowning in 1957 and two kids murdered in 1958, it is no surprise that the locals refer to Camp Crystal Lake as Camp Blood. So when they learn that it is about to open for business in two weeks, they struggle to hide their disapproval. Sean S. Cunningham's classic slasher picture "Friday the 13th" offers a mildly entertaining time, but it isn't anything special. The body count is high, but the build-up toward the kills are not especially suspenseful or creative nor the kills themselves cathartic or thrilling. And with a short running time of ninety-five minutes, there are stretches here that drag.
The one neat thing about the film is that it does a good job in hiding who the final girl might be. I assumed it would be Annie (Robbies Morgan) given that she is first to be shown on screen and she exhibits a sort of independence and pluck. She claims to love children, and the rumors around town do not disturb her. She is even shown being nice to a dog on the street. Annie is one of the camp counselors, specifically the cook, on her way to the lake. The rest of the counselors (Adrienne King, Jeannine Taylor, Robbi Morgan, Kevin Bacon, Harry Crosby, Laurie Bartram, Mark Nelson) wonder what's taking her so long to get there. It's getting dark.
I appreciated that by end of the movie, we have an appreciation of the different spots of Camp Crystal Lake. For instance, where the dock is located relative to the cabins and the cabins relative to the archery range. It looks and feels like an actual camp instead of a set built for the sole purpose of making a horror movie. Over time, we grow familiar with these places. So when a camp counselor is killed at a certain location and another person visits that same place but the corpse is hidden somewhere nearby, we have a gut reaction to the scene in front of us. Most disappointing, however, is that the director does not seem to possess a keen or insightful eye on how to shoot a murder effectively. More thought is put into reaction shots.
Perhaps it has something to do with the limited budget. But I'm not convinced. You see, in John Carpenter's "Halloween," which was released two years prior and also under a limited budget, every scene comes across as focused and polished. There is a sense of control, as though its aim is to deliver a specific experience and mood. "Halloween" and "Friday the 13th" even open in a similar way: We see through the eyes of a killer. But the former has an extra detail to it: We see through the killer's eyes who happens to be wearing a mask. It is off-putting, especially when we are shown a tiny hand—a child's hand—grabbing a knife. In this film, by comparison, the execution is painfully ordinary, generic. The camera takes on the first person perspective as it observes women sleeping. It is uninspired and cheap.
The kills are violent and gruesome, but not one of them invokes a strong visceral reaction. For instance, when a throat is cut with a blade or when a spear pierces through someone's throat, the practical effects are all too apparent. This is a movie drenched in shadows (there is an issue with the camp generator eventually) yet when it is time to cut someone open, the money shot is always—always—well-lit. There is irony there. But I think the intention is not to generate irony but rather cheers or gasps of horror. Cue the overbearing musical score when a counselor is just about to bite the dust. I was not impressed or moved by this consistently obvious approach.
"Friday the 13th" is written by Victor Miller. The story is straightforward, but the dialogue underachieves in that everybody seems to talk the same way. There is a hint thrown in that at least a few of the counselors have come from different parts of the country. And yet they are not written with enough specificity so that we are able to discern among them with ease. While not necessary that we learn their backstories—it is a slasher film after all—it is important that we know them a little bit outside of their physicality.