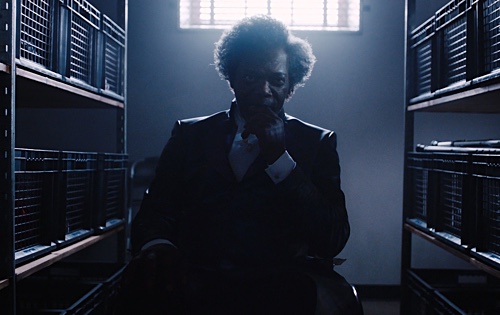 Glass (2019)
★★ / ★★★★
Although not short on ambition or ideas, it is a great frustration that M. Night's Shyamalan's "Glass" isn't a stronger film. Part of the reason is for a closer of a trilogy (started by "Unbreakable" in 2000 and preceded by "Split" in 2017), the work is expository for the most part. Aside from an exciting opening minutes in which David Dunn (Bruce Willis), equipped with superhuman strength and psychic ability, is shown what he's been up to, along with his now adult son (Spencer Treat Clark), since we last saw them, the material begins to move at a snail's pace once the story shifts inside a psychiatric hospital. Initially curious, it gets duller by the minute. There is plenty of dialogue and monologuing, but these do not reveal anything particularly new or exciting.
The screenplay wishes to explore a grounded comic book universe which is full of potential because our culture now, especially the movies, is inundated with the commercialism of superheroes, products on a conveyor belt that we eat up right from the twenty-second teaser trailers. There is a stark difference between superhero pictures of today and superhero films before "Unbreakable" was released, for better or worse. This would have been a far more interesting avenue to drill into: 1) To show why relatively humble superhero movies should still be made despite the fact that several multimillion-dollar juggernauts are released annually and 2) To introduce an exciting discussion about superheroes in general and why they continue to be a staple in popular culture.
Instead, we get only crumbs of the more compelling themes until the third act—which does not work. We get the impression that the writer-director wishes so badly to surprise the viewer that the ideas that do end up on the platter are severely undercooked at best, thoroughly forced and unconvincing at its worst. Cue the flashbacks and would-be brilliant throwaway shots that the audience should have noticed all along. (I caught them all.) Perhaps it might have been better if the surprise is that there is no surprise, just a strong, well-ironed storytelling.
It is not entertaining enough—a head-scratcher because Shyamalan knows how to execute and shoot an action scene. For instance, When Dunn and The Beast, the latter being one of the twenty-four personalities (James McAvoy), must face-off in an abandoned factory, there is a real sense of excitement: the location is moody and dark, blows to the body are shown and actually felt due to the elevated sound effects, and stakes are high because we get the impression that the two are well-matched. Even when the action is shot in broad daylight, the director remains willing to play with the camera, showing us different perspectives of the sequence just because he can. The confidence is apparent when it comes to images. On paper, far less.
The title of the picture refers to Mr. Glass or Elijah Price (Samuel L. Jackson), a genius mass murderer born with osteogenesis imperfecta, a genetic disorder characterized by brittle bones, but we do not get enough moments with the character in order to have an appreciation of him. The charade of catatonia lasts for too long and it is quite boring. And when he does begin to speak, move around, and carry out his plans, not one thing he does is particularly clever or compelling—at least not one I wouldn't have thought of doing myself. When the antagonist is this thinly drawn, it is without question that the screenplay requires further revisions. The work feels rushed.