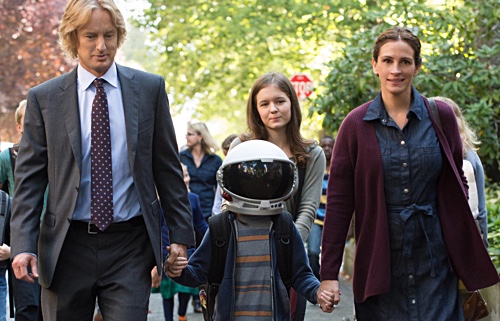 Wonder (2017)
★★★★ / ★★★★
Once in a while a family film like "Wonder" comes along to remind everybody that the sub-genre is plagued by awful and generic movies, often so loud, obnoxious, and busy that they end up saying absolutely nothing, forgotten about even before the end credits roll. Here is a film imbued with expected lessons regarding kindness and empathy, but what makes it special is director Stephen Chbosky putting his finger on the pulse of what makes this particular story worth telling, about a fifth grader with a facial deformity attending school with other children for the first time. It is willing to show kids as living, breathing, complex young people rather than wooden caricatures surrounded by slapstick humor and crude jokes involving bodily functions. The film has plenty of heart and a brain, too.
The structure of the film is fascinating, especially for a sub-genre notorious for playing it safe. Although Auggie (Jacob Tremblay) is in the center of it, the story is not just about him. It shows how one person's struggle affects nearly everyone in his orbit, especially those who love and care about him. We get small glimpses of how, for example, Auggie's elder sister, Via (Izabela Vidovic), must, in a way, shove her personal struggles in the backseat when at home so her parents (Julia Roberts, Owen Wilson) can instead turn their complete attention to her brother who is having a very difficult time adjusting to his new routine.
And yet Via is not shown merely as a saintly sister. She has yearnings and needs as a daughter and as a teenager. We even root for her to be selfish once in a while because she is a part of the household, too. Each character who receives a title card before we see the story through his or her eyes is intriguing in some way. I wished the film were three hours or longer because I wanted to get to know every one of them thoroughly.
It takes great talent and discipline to be able to communicate the necessary subtleties of thought and emotion while wearing a mask or prosthetic. Even adult actors usually have trouble with such a task. Tremblay is an A-level performer in the making and I hope that throughout his young and promising career, he would choose to take on a range of characters who may not necessarily be likable so long as they are interesting.
Here, he makes it look so easy to perform through heavy makeup and prosthetics. I applaud him for not relying on being cute but one aspiring to deliver a believable boy who just so happens to have a genetic mutation. Another performer worth looking out for is Noah Jupe, playing Auggie's friend Jack Will. He takes a typical "nice boy" character and gives it a bit of edge through minute, sometimes subtle, facial expressions. It is the correct approach because the movie, is seen through various perspectives. We wonder whether there might be something else to this character that is worth looking into. We await his title card.
Based on the novel by R.J. Palacio and helmed for the screen by Chbosky, Steve Conrad, and Jack Thorne, I admired that the material loves and respects children. As someone who has worked with kids, I found its honesty to be refreshing in terms of how intelligent and perceptive children can be. Even those who are mean are shown to be aware of their cruelty. It makes the audience look beyond behavior and consider why certain characters choose to take action that might hurt others. It is rare when films for families touch upon potentially confronting realities. So many are too safe and forgettable. It is because they fail to inspire discussion.
Time will tell whether "Wonder" will become a modern classic. This might come across as a ridiculous claim, but I choose to stand by it because it possesses numerous elements that just might boost it to such a status. For instance, it is a feel-good film but it is unafraid to put the audience through a rollercoaster of emotions on top of strong performances all around. Many of us relate to the underdog story. Some of us may still remember how it is like to feel ugly in school, to be stared at, to be laughed at, to be bullied. And if does stand the test of time, well, that's a wonderful thing.