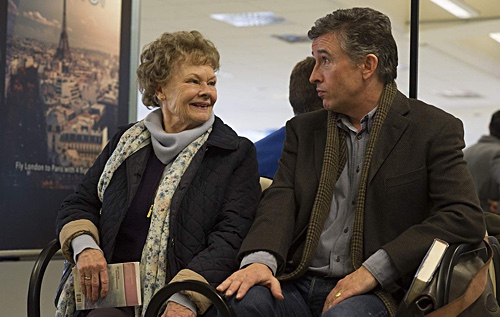 Philomena (2013)
★★★ / ★★★★
A recently unemployed BBC News journalist, Martin Sixsmith (Steve Coogan), did not at all want to write a human interest story because he thinks these tend to be about vulnerable, weak-minded, and ignorant people. But after hearing an old Irish woman's story about having a baby as a teenager and then the nuns giving her child away, Martin takes on the assignment and agrees to aid Philomena (Judi Dench) in locating her son.
When the words "inspired by a true story" graced the black screen during the opening credits, a sinking feeling bore in my stomach. "It's another one of those," according to my brain, so tired of being disappointed by so many bad movies that are supposedly inspired by or based on true stories.
But "Philomena," directed by Stephen Frears, is head and shoulders above many of them. It is told with class and elegance sans sensationalism or relying on sentimentality. If it had been helmed by lesser hands, given its premise, it would likely have turned into a syrupy Lifetime movie where behavior takes precedence over the inner thoughts and feelings of its main players. Dench and Coogan play their characters exactly right: as real people from which the story is inspired by.
What is left to say about the great Judi Dench? Her performance is excellent. I loved and felt privileged for being able to look at her face and feeling every bit of the character's shame, frustration, fears, and agony. Alongside Frears' direction, the extra seconds when the camera simply lingers on the master's wrinkly face allows us time to absorb Philomena's inner struggle and to try to imagine how it must be like for her to not know what has happened to her son for half a century. Dench is such an ace performer that a well-timed blink or the manner in which she exhales can have so much effect on a shot.
I have always seen Coogan as a comedian more than actor although I know the two need not be mutually exclusive. Perhaps it is because he appears in a lot of comedic pictures. Regardless, I have always found his performances rather one-note, repetitive, and at times unrelentingly dull. Here, although the actor has funny bits, the camera does not fixate on how funny he is. In addition, I believed that Coogan is playing a character here: someone who wishes to restore his name as a journalist and yet someone who hopes to do the right thing. It helps that the screenplay by Coogan and Jeff Pope does not beat us over the head with Sixsmith's goals, personal and professional, as well as possible ulterior motives.
The picture is beautifully shot. Whether it be inside a small, darkly lit local pub or a very spacious airport (accompanied by a hilarious description of what happens in a romance novel that the title character is just about finished reading—my favorite scene), the movement of the camera is fluid, never drawing attention away from conversations between the reporter and his subject. Human connection is highlighted with consistency and so we are naturally drawn to the conflict that drives the drama.