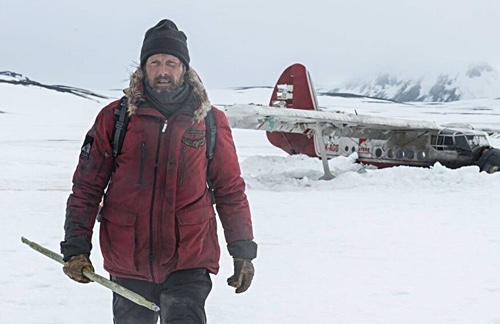 Arctic (2018)
★★★ / ★★★★
With less than three pages of dialogue, "Arctic" delivers entertainment on the gut level. Many of us have encountered this plot before: a plane crashes on the icy mountains and the protagonist struggles to survive. However, what separates this film from its less impressive contemporaries is a lack of ostentatious display. We are not shown the plane crash that sets the story in motion. No breaking out of unconsciousness and the confusion that results afterwards. There is not even one subtitle that informs the audience how long it has been since the crash. We are simply and quietly encouraged to make assumptions based on the numerous details around the site.
Mads Mikkelsen is perfect in role a like this. He has the gift of being able to take one emotion and change it completely within two to three seconds using only his eyes. Notice the close-up when he sees a helicopter and it appears that those inside have noticed his need for rescue—just as quickly, hope turns into despair. But he excels not only when he looks into the distance. Early scenes involve his character, Overgård, looking, studying, pondering over the objects in his hands, whether it be a fish flopping about, a pile of rocks, a map. We do not need dialogue because his entire being—although silent—communicates clearly and with purpose every step of the way.
It assumes that the audience is intelligent. A great example is when the camera shows a map. We know the location of Overgård's camp site because it is circled with a black marker. However, everything else around it is in black and white; there are various depictions of height due to hills and mountain ranges. Marked, too, is a path from the crash site to another familiar location. There is a legend with shapes and names next to each one. It is likely that those with a limited understanding of how a seemingly simple map works are likely to be lost or confused.
The writing by Joe Penna and Ryan Morrison, the former directing the film, is patient. It does not wish for the audience's minds to go on autopilot—so unlike adventure movies these days. The map is shown at least ten times—and yet not once does it comes across as repetitive. The more we look at it, the more understanding we have of it. With every note that Overgård makes on that map, we gain an understanding not only of his path or his plans, we begin to understand how the map works in general. On top of this, we gain an appreciation of how the protagonist thinks and the strength of his fighting spirit. Eventually, the map is opened and we do not only look at the places he is labeling. We become confident of our ability to read this map and so we search for alternate routes should the plan fail to go as as expected. (It is a survival film. Of course it won't.)
"Arctic" is offers numerous small surprises should one is willing to look closely and carefully. I wished that the score were less prominent at times or had been removed altogether because silence tends to amplify the sense of isolation. Note the instances when Overgård suspects he may not be alone in a place he thought was safe. Silence underscores the sound made not by him. Still, the work offers a riveting experience, one that we want to cling onto until the very last shot.