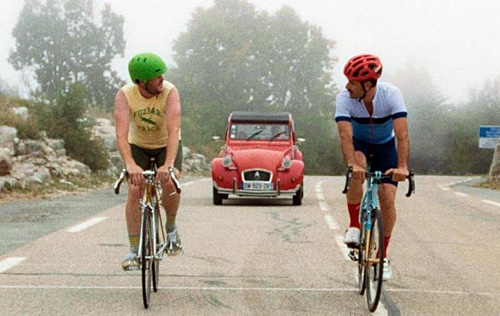 The Climb (2019)
★★★ / ★★★★
"The Climb" is a story of two losers—Kyle and Mike (Kyle Marvin and Michael Angelo Covino)—who have been best friends since childhood. We meet them biking together and it is immediately noticeable that one is more likable than the other divorced from the fact that Mike has just informed his friend, who is engaged to be married, that he had slept with the the bride-to-be on multiple occasions, going as far back as three years. You know when you meet a person and you get a distinct vibe? Mike evokes an aura of selfishness; Kyle serves as a doormat.
Marvin and Covino wrote the screenplay (Covino directs) and I found it impressive that within a span of five minutes, they motivate viewers to cast heavy judgment on the characters. Big budget mainstream comedies tend to have a difficult time doing this—or they are unwilling to do so in the first place for the sake of a silly thing called likability. The approach is almost always vague and therefore safe; the comedy likely to be situation-based rather than a harsh critique of a person, ingrained behavior, personality trait, or lifestyle. This one goes out of its way to be specific and so the humor is sharp, unexpected, and occasionally brave. I wondered how much of the script is autobiographical because the dialogue, particularly when two people confront one another, sounds real. We readily see pain, shame, anger, and embarrassment on their faces.
There is a naturalism about it that reminded me of mumblecore pictures of the early 2000s. Much of the humor is rooted in its subjects' shortcomings, for instance. Kyle is a lovable teddy bear, but there are times—I would say too many times—when he lacks spine, especially when the occasion calls for it. We meet his family and the women prove to have strong personalities. So how did he turn out to be such a pushover? But that's the thing: the movie offers a handful of contradictions in terms of character. And because it does, it inspires us to pay attention that much more, to squint at the well-hidden threads, ask questions, and make educated guesses. Why do these two feel the need to have each other in their lives when it is clear as day that their relationship can be toxic?
Kyle and Mike's tumultuous story unfolds over several years. It is divided into seven chapters, but there is no title card that denotes how much time has passed since the punchline of the previous one. Eventually, we are conditioned to note much they've changed or, perhaps more importantly, not changed. At times the difference between one chapter and another in terms character is an update from Version 2.0 to Version 2.0.2. This is an interesting approach for a comedy, and it works here for the most part. But it comes with notable shortcomings.
I wanted to get to know the duo as complete people—together and apart. But because their story is divided into chapters, we see only glimpses of what makes them happy, sad, jealous, or angry. Although I noted above that they undergo minimal change in terms of big picture, it is important that those changes be explored in meaningful and fruitful ways. While I enjoyed that the film is always on the move, it needed to slow down during the more dramatic moments and wring out every bit of its subjects' unhappiness, of them feeling lost, of their desperation to forgive or be forgiven. In the end, I felt I understood Kyle and Mike only on a chapter-by-chapter basis, not as people whose story, or stories, will go on past the end credits.
Regardless, "The Climb" is worth seeing because it is not afraid to be intimate. There is no score that urges us how to feel. We must look into people's eyes, we must observe the distance between their bodies, and we must note how they twitch, or squirm, or hold their breath when they're about to lose control. This is a movie that values simplicity, yes, but it also values our ability to read people and empathize. I called Kyle and Mike "losers." But you may not consider them to be. The wonderful thing about this film is that both of us can be correct.