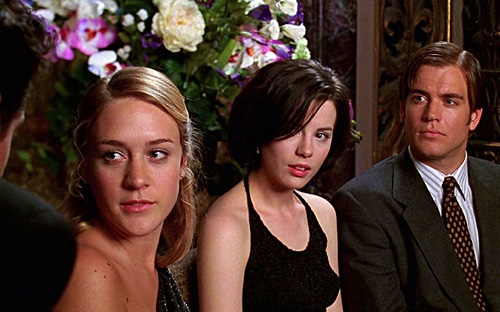 The Last Days of Disco (1998)
★★★ / ★★★★
Alice (Chloë Sevigny) and Charlotte (Kate Beckinsale) are recent Hampshire College graduates who work in the same publishing house in Manhattan. At night, they often go to an exclusive disco club with hopes of meeting bachelors who might provide them romance. Although Alice and Charlotte are constantly around one another, one might argue they are not exactly good friends. You see, when men enter the equation, the foundation of their tenuous relationship is almost always stretched and bent near the breaking point. And yet somehow they think they need each other so their fights do not last for long.
Written and directed by Whit Stillman, the great contrast that "The Last Days of Disco" offers is between the vibrant music that is disco—so full of energy, life, and rhythm—and the young New Yorkers who are very intelligent but whose lives have flatlined. Although one can claim that the characters, or the archetypes they represent, are being satirized, one might also argue that the writer-director loves his subjects on some level because there is always a level of complexity to each of them. They are never treated solely as punchlines of a joke or a situation gone bad.
It does not mean any of them have to be likable. In fact, there is only one I found myself being able to sympathize with. The central characters, Charlotte and Alice, are snobs on different levels even if their personalities are almost polar opposites. Sevigny does a good job in making a quiet girl seductive. I enjoyed the scenes where Sevigny allows Alice to slink across the room to get a man's attention, accompanied by her sultry bedroom eyes, but at the same time it is almost like the character is trying too hard in order to hide the fact that she is not very confident. Beckinsale, on the other hand, plays an aggressive character. Charlotte is the more confident half. She represents that girl who is so popular but the more one spends time with her, one wonders if she really has any true friends.
Most fascinating is the character named Josh (Matt Keeslar) whom Des (Chris Eigeman) often labels as a loon for having had a mental breakdown when the two were in college. Their relationship is interesting because just about every time Des says something even remotely derogatory, whether it be a name or an implication that Josh does not deserve to have the jobs he often gets, there is an undercurrent of envy. One of the most hysterical lines in the film is Des claiming that perhaps the reason why he is so happy is because he is not envious of anyone. It is a funny scene because we know better: We have grown to know him better than himself.
The romance between Josh and Alice is downplayed—but I was not entirely convinced such is the most appropriate avenue. Arguably, they are the two characters who are the best fit for one another. Perhaps a bit of genuine sweetness to penetrate the otherwise sour and sardonic tone might have made the movie feel more alive. But then the film is less about romance and more about how a certain era is romanticized.
"The Last Days of Disco" entertains through dry humor and private thoughts often being expressed in one's attempt to become the center of attention. I did not like most of the characters, but I found myself always anticipating what they might say next. The group discussion about the underlying meanings embedded in the film "Lady and the Tramp" is most hypnotic. They talk about big ideas but they remain sitting on the couch, just waiting for time to pass.