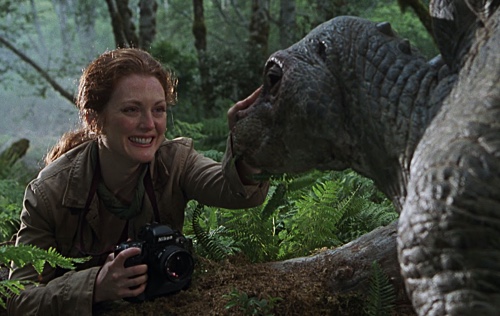 The Lost World: Jurassic Park (1997)
★★ / ★★★★
It doesn't take much brain power to imagine Steven Spielberg's "Jurassic Park" stripped off its sense of wonder because the product is "The Lost World," a sequel so constantly on autopilot that not even one of the best characters in the predecessor, chaos theorist Dr. Ian Malcolm (Jeff Goldblum), is able to outshine its generic screenplay and execution. Notice that when the noise and movement die down and characters are required to speak and connect with one another, boredom numbs the mind. At least it is proud to be a mindless monster movie, I guess.
If one signed up for action, the picture does not disappoint—to a degree. There are two highlights. The first is the Tyrannosaurus rex attack of a trailer that contains an infant T. rex. Dr. Sarah Harding (Julianne Moore), a behavioral paleontologist who just so happens to be Dr. Malcolm's girlfriend, intends to treat the infant's broken leg. For some reason, it does not occur to her, despite being a professional who studies behavior, that the animal wailing about may attract its parents. Two angry T. rex attacking a trailer, the shelter of those whom the dinosaurs believe to have kidnapped their offspring, is worthy of the attacks found in first film. There is a defined setup, special and visual effects are employed to service and enhance the storytelling, and it forces viewers to undergo a rollercoaster of emotions. Just when you think it is over, it is far from it. I always love it when a character falls on glass… and then it starts to crack. Cue instructions being yelled at the screen.
Another terrific scene involves a desperate sprint through a field of long grass… which is also a Velociraptor nest. It works because this sequence is not always in-your-face violence and horror. Because it is near impossible to see what's around the characters, it is more suspenseful compared to the garden variety shocks. I enjoyed how at times all that is required to show is a long, muscular tail grabbing its prey. Whack! Accompanying screams for help and squelching noises are enough to paint a vivid picture in minds. This sequel needed more of this.
There are some concepts worthy of exploration in "The Lost World" which is based on the novel by Michael Crichton and written for the screen by David Koepp. A few examples: how large, private companies exercise their power—even going as far as to squash the reputation of dissenters—to ensure prevention of a single cent being taken off their profits; how we, as a species, sometimes tend to exercise cruelty and dominion over creatures that we fear or do not yet understand; and how we can set aside our differences to attain a common goal.
The last bit is especially critical to dig into because there are two groups that have been sent to Isla Sorna: Dr. Hammond's (Richard Attenborough) team composed of our protagonists who respect nature (Goldblum, Moore, Vince Vaughn, Richard Schiff) and InGen's team, a bioengineering company formerly led by Dr. Hammond and has since been under the leadership of Dr. Hammond's nephew, Ludlow (Arliss Howard), made up of men with big guns and latest technology. For some reason, the work fails to mine the drama between these factions. When they finally cross paths, their differences are dropped at a… drop of a hat and they travel together with minimal tension. The stench of laziness emanating from the screenplay cannot be ignored.
This is a shame because one of the members of the InGen team is worthy of getting to know. Roland, played by Pete Postlethwaite, is a hunter who chose to be there not for the money or fame but for the thrill of hunting the apex predator. Postlethwaite injects the character with enigma, charm, and specific perspective of seeing the world. His Roland is no ordinary stern villain. Observing the way he approaches problems, he is pragmatic, methodical, extremely focused. Roland could have been a terrific foil for Dr. Malcolm. And yet the material simply brushes aside this potential source of conflict. Yes, for another tired chase scene.