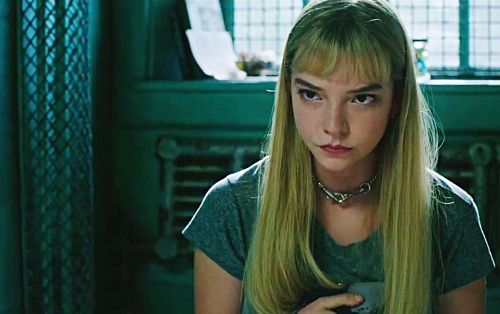 The New Mutants (2020)
★ / ★★★★
In the lounge of the secret facility where young adult mutants are confined so they can learn how to control their powers, Season 4 of Joss Whedon's "Buffy the Vampire Slayer" is constantly playing on television, arguably the show's worst season. There is a reason for this. The film and the cult TV show's fourth year tackle a similar theme: identity. Despite this, I found myself wishing I were sitting through Buffy and the rest of the Scooby Gang's first year in college than having to endure another interminable minute of "The New Mutants," written by Josh Boone (who directs) and Knate Lee, an insipid, boring, spiritless, and highly expository dirge set somewhere in the "X-Men" universe. I dub it "X-Men on Quaaludes."
For a movie revolving around teenagers with budding superpowers, not much of interest happens. The problem isn't the fact that the patients are stuck in one location. An imaginative and well-written screenplay finds freedom within physical confines. Creating compelling characters outside of their superpowers—abilities that we've all seen before within and outside of the "X-Men" franchise—is the biggest hurdle the work is unable to overcome. Through flashbacks, nightmares, and imaginings we manage to take a peek into our heroes' tragic pasts. However, once we have the necessary information, awful memories remain just that: they haunt, they force their possessor to assume the fetal position. Their bearers never undergo convincing arcs and so when the movie is finally over, we wonder what point the story is trying to make, if any.
The enigmatic facility is run by Dr. Reyes (Alice Braga), a mutant capable of generating powerful force fields. Although there are no walls or fences around the hospital, there is no escape. The newest arrival is a Native American named Dani (Blu Hunt), the sole survivor of a mysterious attack against her tribe. No one knows her power, not even herself. There are four other patients: spitfire Illyana (Anya Taylor-Joy, a scene-stealer) who possesses the power of teleportation (and her arm can change into a sword), the welcoming Rahne (Maisie Williams) who can transform into a wolf, the guilt-ridden Sam (Charlie Heaton) who can move faster than a rocket, and playboy Bobby (Henry Zaga) who can envelop his entire body into flames. These comic book characters are not translated in a way that works in a cinematic medium. As they clash and prance around nondescript hallways, I felt as though all of them are mere cardboard cutouts.
How can this be when the movie is so dialogue-heavy? There are at least three group therapy sessions with Dr. Reyes. A handful of moments where the teenagers hang out and measure each other up, particularly Dani and Illyana. And there is a budding romance between Dani and Rahne. It goes to show that just because characters are speaking to one another does not necessarily mean they are saying much. I felt awful for the performers because I felt their enthusiasm behind each portrayal. But they never stood a chance because the screenplay is dead in the water.
Of course the film must wrap up by employing visual effects extravaganza. I felt numb by all of it. It's like walking into a room where a friend is attempting to defeat the final boss of a Japanese role-playing video game. It looks epic—Lights! Magic! Pulse-pounding score!—but it's difficult to care because you don't have the necessary context as to why that final battle is important for the avatars fighting. But watching the closing chapters of "The New Mutants" is actually worse because the visual effects are muddled at times and we did sit through the context yet it still fails to make an impact.