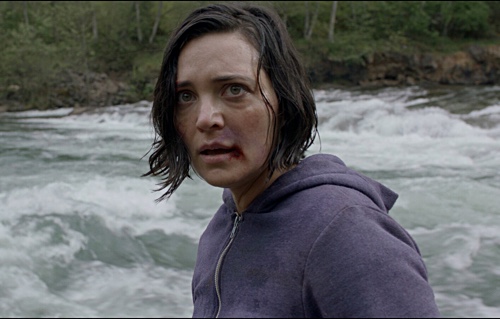 Alone (2020)
★★ / ★★★★
"You will reach your destination in 4 days," according to Jessica's GPS while on her way out of the city toward her new home for the time being. But this is a thriller and so we know that her plans will soon be thrown out the window. She is traveling by herself and so we know, too, that she must encounter a stranger, most likely a man, and will give her a hard time. From there, It is only a matter of time until the sick cat-and-mouse situation leads to violence, murder, and revenge. This is a skeletal checklist of a woman-in-peril thriller. "Alone," written by Mattias Olsson and directed by John Hyams, is not original—nor does it need to be. But it must be entertaining from more than one angle. Otherwise, why make a picture when you have only one thing to say or show?
I enjoyed the film to some extent, but the problem is that it does not go far enough. It starts off slow but with enough sense of foreboding and drama. We look at Jessica, played by Jules Willcox, and immediately noticeable, almost palpable, is a great sadness written all over her face, starting with her eyes. The score is minimal and utilized sparingly. When her car is out of the city and surrounded by mountains, rivers, and trees, there is a constant reminder that not only is she isolated—physically and mentally—but that she can easily be crushed like an ant—and I think she feels small, too. Something happened to this woman, and what she is about to experience will remind her of her strength, her power to forge ahead despite what life throws at her, no matter how unexpected or unfair.
That's the intent anyway. If I don't describe the movie in this way, I suspect that most audience will not "get" what the story is truly about. Many will claim it is about another serial killer picking out some poor woman to serve as his latest victim. But had this movie been dirtier, perhaps more fast-paced, with a real mean streak when it comes to violence and gore, the message would have been clearer. The thing about exaggeration, especially in suspense and thrillers, is that it inspires people to pay attention—both on the level of what is shown on screen and, for more discerning viewers, why the movie is functioning as if on steroids. And when exaggeration is lacking, as the case here, especially for long periods, it inspires viewers to relax or tune out. I was able to stick by the picture because I look for new wrinkles in an oft tread path. I can only imagine that casual audiences will be less forgiving. There's irony in that.
The story is divided into six chapters—"The Road," "The River," "The Rain," "The Night," and "The Clearing." One way or another, these are elements that our heroine must contend with in order extract herself fully from a tricky unnamed villain portrayed by Marc Menchaca (he is credited as The Man). The Man is an expert spectacled liar, the kind of guy you won't look twice at a convenience store even if he dropped a case of beer on the floor. He is that ordinary. Naturally, this man will be the constant threat to our protagonist. He is persistent.
I appreciated that when this character is introduced, facing the terrified Jessica while in her car at the motel parking lot, it is readily apparent that he is turned on by her fear. He greets her not with a mask or any sort of disguise—but with a smile. That smile does not translate to "I'm friendly. What's your name?" It is a smile that says, "I will have you locked up in my basement in a couple of hours." Willcox portrays Jessica as if on the verge of an emotional breakdown. That is the correct choice because then it makes sense that the character is highly sensitive to slightest suggestions or implications. The first part of this story—the tease—is stronger than that half-pulled punches in the latter half. This is where my earlier critique concerning the lack of exaggeration comes into play. Once the intrigue is shed, now what?
"Alone" is worth seeing at least once, especially those who are aspiring filmmakers. It is apparent that the work is made under a limited budget, but it does get more than a handful of elements right such as the heroine's backstory, a portentous atmosphere, and the earlier encounters between Jessica and The Man. But the later portions needed to be just as strong in different ways than we have just seen. (But note that the final five minutes is terrific.) Even though the setup is familiar, the goal should be to keep viewers guessing anyway. The best thrillers are in a constant state of evolution.