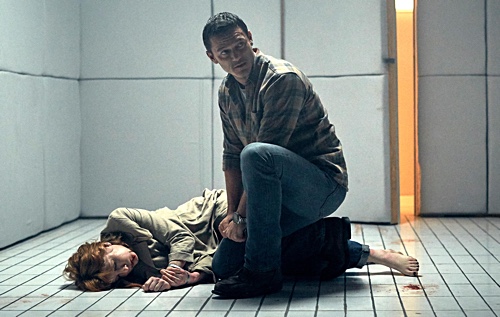 10×10 (2018)
★★ / ★★★★
As far as abduction thrillers go, "10×10," based on the screenplay by Noel Clarke and directed by Suzi Ewing, is relatively standard in its execution in that opportunities are not taken once and for all to end the life of either the hero or villain until the very last act. It goes by the rule that the running time be as close as possible to ninety minutes. There is great frustration to be had here: Since the characters do not make desperate moves in life or death situations, we never become invested in the survival aspect of the story. However, there are enough plot twists which warrant a light recommendation for those looking to turn off their brains for passable, superficial, and forgettable entertainment.
The abductor named Lewis is played by Luke Evans—a role that any actor with an athletic physique can play. Although Evans is believable in the role—in fact, he appears unchallenged here—the character is neither written with depth nor in such a way that the drama is rooted in something real, tangible, or relatable. Relatively fresh, however, is that Lewis is no common criminal. Having stalked Cathy (Kelly Reilly) for months and finally making a move to kidnap her, in a very public place, no less, we learn quickly he is not motivated by money or sex. Then what does he want?
This reveals the weakness of the screenplay. It takes too much time to get to the point—to reveal the motivations of both predator and prey. As a result, the momentum during the middle portion remains stagnant for the most part, only punctuated by silly chases that end quickly. At least these scenes are edited in such a manner that we have a complete idea of the action. It could have been edited so manically but there is some degree of patience here. Still, viewers are certain to think or yell at the screen: "Grab the gun!" "Shoot him!" "Stab him!" When a gun is located only a few feet away, Cathy chooses to run to the kitchen drawers and search for a knife. She fails even to grab the biggest one. Common sense is far from the picture's forté.
For a film that takes place in a limited space, it does a solid job in getting us familiar with the setting. For instance, the ten-by-ten soundproof white room surrounded by padding is initially nondescript. But as violence unfolds, it gets dirtier, we see bugs and blood, imperfections on the floors and walls. As for the living space, it is quite detailed. Because Lewis does not reveal much about himself during the first half, we look closer at the decor, photographs, paintings on walls, piles of magazines and books. Does the home look and feel as though it houses a family or a bachelor?
"10×10" is competent but never impressive, tolerable but never that interesting. Its look is rather standard and the camera angles employed are not daring or even playful for the sub-genre. In the middle of it, I began to wonder about my shopping list, whether I had jotted down everything I needed for my next trip to the supermarket.