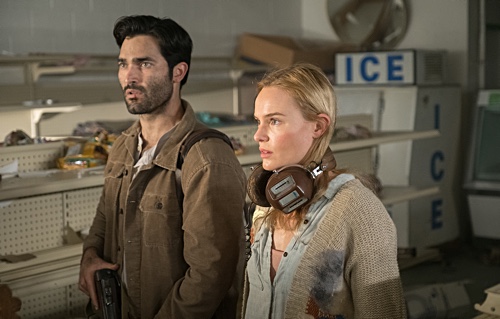 The Domestics (2018)
★★ / ★★★★
There are far too many suspense-thrillers with rather neat premises but ending up sputtering about halfway through. I think it is because screenwriters get so distracted by the shiny new ideas that they end up neglecting to explore them in meaningful ways. And so when the novelty wears off, the work lacks a reason to exist. A twisted road trip picture, for instance, is reduced to yet another shoot 'em up. "The Domestics," written and directed by Mike P. Nelson, is guilty of this significant shortcoming.
The U.S. government's black poison has killed most of the American population. No reason is provided why this was sanctioned, nor is the material required to do so. The survivors, those resistant to the toxic substance, have been divided into two major factions: those who joined a gang—which is divided further based on their moral codes (or lack thereof)—and the so-called Domestics—people who scrape by every day without group affiliation. Married couple Mark (Tyler Hoechlin) and Nina (Kate Bosworth) belong in the latter category who decide to make their way to Milwaukee after Nina's parents cease to communicate via radio. As expected, the spouses encounter various gangs who wish to imprison, torture, or… play with them.
The co-leads do a serviceable job in their respective roles, but the screenplay fails to make them equally interesting. Mark is strong, creative, and vigilant—clearly equipped with survival instinct. On the other hand, Nina is in this constant state of sadness. During the majority of the picture, she is nearly useless, a major liability. I found it to be painfully cliché when the character so suddenly becomes a warrior during the final twenty minutes. The pivot is ineffective because neither character is given enough specific details so that any change that may occur later is thoroughly convincing.
Instead, more effort is put into the action sequences—where the gun is pointed, whose brains are being blown out, blood spatters on walls, sharp objects going though flesh. Notice the manic nature of the editing during these scenes. The violence, while cringe-inducing in a good way, is consistently at the forefront yet there is minimal social commentary in whatever is going on. After all, strong post-apocalyptic films tend to be about something else entirely, from the rousing "Mad Max" films, darkly comic "Delicatesen," insightful "Children of Men," down to poetic dirges like "The Road."
There is a hint, I suppose, of friction between the protagonists. Before the toxins were released, Nina and Mark were on the process of getting a divorce. But the details are both superficial and laughable. Listen to this: Nina confesses to a fellow survivor (Jacinte Blankenship) that they used to be so crazy for each other. She especially swooned at the fact that Mark would leave her cute and romantic notes at home or at work. Eventually, however, the gesture stopped. I couldn't help roll my eyes and stifle a laugh during this would-be vulnerable moment. Did she really expect such flirtation and playfulness to last for the rest of their marriage? Is she really this short-sighted and shallow? Of course passion wanes. What matters is what you do about it as a couple when it does.
"The Domestics" is not without potential to become a solid thriller. I enjoyed that each gang has a specific personality. The leaders may not have memorable faces, but their monstrous behaviors linger in the mind. Had the screenplay undergone further editing by focusing on the overall message they wish to portray, followed by strong, detailed, and surprising characterizations, it would have felt refresher, more urgent, more relevant in our modern times of politically divided America.