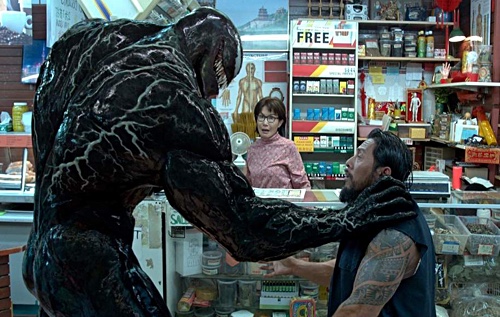 Venom (2018)
★★ / ★★★★
Early on in the picture, a woman carrying a Symbiote—an extraterrestrial parasite that hitchhiked on a space probe while its way back to Earth following a reconnaissance mission—ejects lethal barbs from her back, but when the camera pans around her, the clothing has no hole in it. This perfectly sums up the level of carelessness of "Venom," directed by Ruben Fleischer, a seldom entertaining and often boring superhero film. It might have benefited from a couple more rounds of rewrites.
One of the titular Symbiotes eventually makes its way inside the body of Eddie Brock (Tom Hardy), an investigative journalist who gets fired for asking all the right questions involving a bio-engineering corporation led by the ambitious but unethical Carlton Drake (Riz Ahmed). It isn't a coincidence that the probe that crashed in Malaysia is owned by Life Foundation; Drake plans to fuse these so-called Symbiotes with human bodies in order to save our mankind from certain extinction once Earth is no longer a viable place to live. Make no mistake: Moral quandaries regarding the use of science and technology in relation to the betterment of society is handled like sledgehammer to the face. There is no genuine or heartfelt human drama to be had here, just a series of empty action sequences.
At least a few of these pieces are handled with mid-level proficiency. Brock discovering his abilities when hired goons enter his apartment comes to mind. Another is a motorcycle chase across the hilly streets of San Francisco. Rain of bullets and car crashes are served like clockwork, but I enjoyed that there is humor embedded in them. Hardy finds a way to make Eddie the loser more palatable than the standard variety. It is easy to tell that he is up to task of playing with different types of comedy, so it most unfortunate that the screenplay does not possess the requisite creativity and intelligence to make a strange, darkly amusing, and convincing story. I felt as though the project was shaped so that studios can make the most money first and entertain the audience second. It shows.
The villain is generic from the moment we meet him until he is defeated. Ahmed, like Michelle Williams who plays Brock's love interest, looks as though he is sleepwalking through the role. He is a performer with range, but he cannot be blamed in this scenario. The character is so unchallenging, imagine the CEO on mute and the effect would be negligible. It appears as though screenwriters Jeff Pinkner, Scott Rosenberg, and Kelly Marcel, have forgotten that a superhero film is only as good as its villain(s). So why not strive to give Drake more personality, dimension?
Perhaps the only element I found to be marginally impressive in this parade of mediocrity is the CGI Symbiotes. They are creepy and curious when they are slithering about without defined shape, and they are quite threatening when they feel the need to defend themselves. But the material is so dull, especially when the human characters are supposed to be connecting emotionally, I wished I were watching "The X-Files"—specifically the black oil/alien virus episodes—since the film and the television show have similar ideas on how an entity assumes control of its host's body, its sentience, its ability to communicate. The legendary television show is able to take the concept on another level while the film appears content in having flatlined.