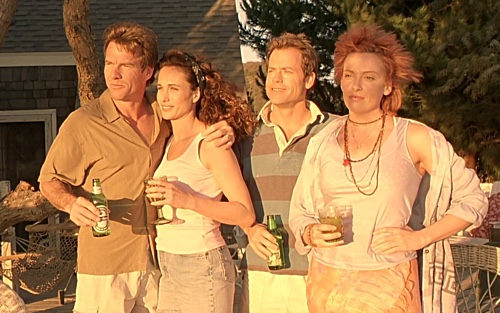 Dinner with Friends (2001)
★★★★ / ★★★★
Gabe (Dennis Quaid) and Karen (Andie MacDowell) have just returned from Italy and cannot wait to talk about their adventures with their best friends, Tom (Greg Kinnear) and Beth (Toni Collette). The doorbell rings. There appears Beth but no sign of Tom. She says her husband had to go to Washington, D.C. for business. But the truth comes out before dessert: Tom is leaving her for a stewardess. Karen is furious for Beth and Gabe is at a loss for words—twelve years down the drain.
"Dinner with Friends," based on the play and adapted to the screen by Donald Margulies, appears to be just another standard marriage drama where one couple's break-up forces another to reflect upon their relationship. While it embodies that quality on the outside, the film is actively interested in the human condition and how painful truths about love, friendship, and companionship can be confusing, exhausting, and surprising. And yet it works on another level, too. In my eyes, the message is that an evaluation of a relationship may not be pretty or convenient at times but it is an important part being together for it forces a couple to appreciate what they do have—even if everything may not be perfect.
The performances are consistently on a high level. The first few scenes are deceptive in that it appears as though what we are seeing on screen are caricatures: Karen the perfectionist, Gabe the husband with not much to say, Beth the victim, and Tom the jerk. But the more the characters speak, even though we may not agree with their opinions or courses of action, the more we want to get to know them. In just about every scene, a layer or several layers of complexity is added to the characterizations. We are constantly getting to know the characters.
In addition, the script has captured the rhythm, mood, and tone of white, middle- to upper-middle class dialogue. While the film is interested in exposing their flaws as people, it abstains from judging them. The judging is left to us and so we are engaged. At time same time, it is difficult to judge them because they are relatable. I found a piece of myself in every one of them.
The latter half is most impressive because it manages to capture the sadness of potentially broken relationships. No, I am not necessarily referring to just the marriages. Most interesting is how the friendships are portrayed between the men and the women. In two key scenes that unfold over lunch, we feel two people sharing a meal slowly drifting away even though physically they are only an arm's length away. They feign as if there is nothing wrong but we—and they—know that things have gotten difficult and awkward. How do you continue to love someone when you recognize that the person that you thought you knew for years has suddenly turned into someone you can no longer relate with?
Directed with perspicuity by Norman Jewison, "Dinner with Friends" captures a critical moment in time when four people must evaluate where they stand. Sometimes the scariest thing is taking a moment and asking ourselves whether we are happy with the way things are. Karen, Tom, Beth, and Gabe assumed that nothing would ever change among them because they were so close. We are all guilty of that assumption and so when changes do occur in special friendships, sometimes it's the most difficult task to accept and let go.