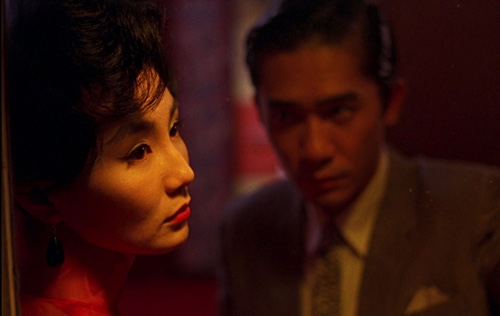 In the Mood for Love (2000)
★★★★ / ★★★★
When was the last time you've seen a romance picture whereby a man and a woman eat dinner at the same table and the camera dares to focus its attention on the food being consumed rather than the words, looks, and impressions the two share? Yet the scene is not about the food but about the lonely pair, possessing knowledge that their respective spouses are having affairs, who are separated by that table. Although the attraction between them is palpable, they vow not to behave like their partners. And so the distance between the two sharing a meal might as well be from Venus to Mars. Wong Kar-wai's "In the Mood for Love" works on this level all the way through. It assumes that those looking in are intelligent in the mind, heart, and spirit. By doing so, it avoids common trappings of the genre and forges a unique path of its own.
We are offered one fresh image after another. Mrs. Chan (Maggie Cheung) and Mr. Chow (Tony Leung) have spent time with each other on multiple occasions. And yet when they converse in public, the camera tends to hide—behind a stone pillar, metallic bars—as if it were spying on them. At times images are blurry, off-centered. Their backs face the camera. We are forced take on the perspective of a voyeur precisely because, in a way, we are.
Another example, five minutes into the film, involves move-in day for both Mrs. Chan and Mr. Chow. They are neighbors, whose spouses are often away on business, and so movers inevitably confuse which possessions belong to whom. But this scene is not played for simple or easy laughs. By placing the camera in a cramped hallway, it gives the impression that the story we are about to experience will be about people moving in and out of rooms and the items—offerings—they carry with them. Sometimes items are left in place. Other times items are taken somewhere else. It is a beautiful metaphor for the impermanence of time, places, and faces. Notice how the writer-director seems to have an affinity for showing faces of clocks.
This is not to suggest that the work can only be enjoyed by being observant. This can be appreciated by viewers who have lived and loved; those who have a penchant for self-reflection. Consider: Despite spending ample time with one another, we never, ever, get to hear Mrs. Chan and Mr. Chow share laughter even though it is apparent they thoroughly enjoy one another's company. We are not spoon-fed why. Rather, we inspired to look inside ourselves to come up with a reason, or reasons, why this might be.
I think it is because sharing laughter, joy, with another person is deeply personal. By not showing the pair laugh, the work is making a statement that even though we get to see glimpses of their interactions, many of which are sensual and intense, we remain outsiders looking in. To hear them laugh is an act of breaching the secret space they've created for themselves. Laughter would have overpowered the whispers. I also think doing so would have broken the picture's mood. We've all been in a situation where we hear a couple laughing from several feet away and feeling a bit awkward. We wonder, "What's so funny?" or "What are they laughing about?" We are meant to gravitate toward Mrs. Chan and Mr. Chow, not be repelled by them.
There is splendor within moments of pause. Here is a picture so patient that, for example, it is willing to show how rain lands on street lamps, on people, on stone roads. It demonstrates how rain can change people's behavior. Many run away to find shelter, some hide under umbrellas, others remain still. Rain can be regarded as an act of renewal, of washing away sins, of evidence, and perhaps of memories, too. "In the Mood for Love" ends in an offbeat path, but it feels exactly right because it is helmed by hands who appreciates how it is like to yearn for a possibility so close to becoming reality, for a life not lived but to go on living anyway.