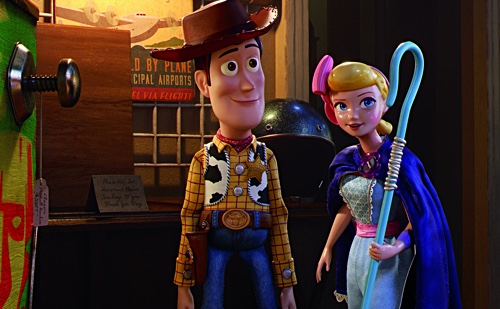 Toy Story 4 (2019)
★★★★ / ★★★★
Pixar proves yet again that they understand their audience. Sure, the computer animation is more spectacular than ever. No detail is considered as too small or insignificant even during a most exciting chase or action sequence. The score is consistently on point: carefully calibrated depending on specific emotions being conveyed at a particular moment. But when it all comes down to it, notice that the standout works from this superlative studio are those that possess the most humanity; the medium just so happens to be animation. And "Toy Story 4," written by Stephany Folsom and Andrew Stanton, is one of Pixar's most entertaining works, a welcome installment to an illustrious series.
The screenwriters make the intelligent choice not to tell just another adventure story that unfolds throughout a road trip. Instead, it focuses on an existential note that harkens all the way back to the original "Toy Story": what happens when a toy is no longer needed, or wanted, by its owner? (What happens when parents recognize that their children no longer needs them?) College-bound Andy handed over Woody (voiced by the inimitable Tom Hanks) and the rest of the gang to Bonnie (Madeleine McGraw) at the end of the previous film and this next chapter proves interested in exploring—not just showing—what happens next. The masterstroke, I think, is that although the gang has found another home, not all of them feels at home. This is when the drama comes in.
Respect is given to longtime fans by not showing a strong bond between Bonnie and Woody. Although Bonnie's name is written on the underside of Woody's boots, we all know his heart will forever belong to Andy. This can be a complicated concept, both for young children and those who are new to the series, but I admired that the writing is sharp and patient enough to provide morsels of how important it is for every toy—not just Woody—to find a place where they feel like they are loved. And these universal examples are applied to the cowboy character's psychology. It is clear that the writing strives to provide more than just surface entertainment. It is so refreshing given the poor caliber of animated movies aimed at children that release annually.
But what about those who are interested in surface entertainment? (There is nothing wrong with that.) Well, the movie has that covered, too. Its type of humor will appeal to the young, old, and everyone in between. The reason is because most jokes are kid-at-heart. They are creative and often delivered with such vivacity that even when an attempt at humor is not that funny, you find yourself laughing anyway. It is a movie filled to the brim with smiles.
There is not one joke involving poop, fart, or pee but there are jokes about body parts of specific toys—how they react, for example, after seeing another toy with a similar body composition having been cut in half. We get the impression that the filmmakers had put in the time to observe each character's physicality and find ways to make us laugh out loud—or giggle at the very least. Notice that many jokes presented here cannot be used in other generic animated movies. Conversely, jokes involving bodily functions are all the same when used in said films. It goes to show that specificity goes a long way.
"Toy Story 4," directed by Josh Cooley, provides a most joyous and emotional experience—a wonderful summer movie when children are out of school and have all the time in the world to play with their toys, to pretend like cowboys, princesses, monsters, gooey invaders from another planet. And for those of us who are grown, well, for about a hundred minutes the picture makes us feel like we are kids again. That's indispensable.