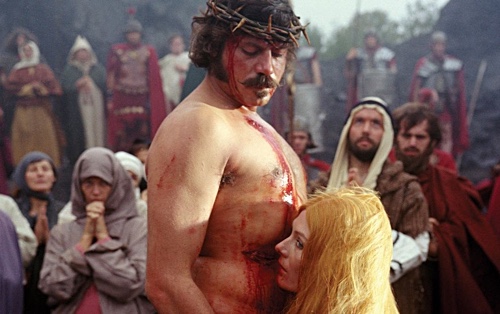 The Devils (1971)
★★★★ / ★★★★
Ken Russell's "The Devils" is based on a true story that begins almost like a farce and then the farcical elements are taken to such an extreme that the work becomes a horror film. It is a fascinating movie: bizarre, daring, oddly paced, colorful in terms of images and performances, and certainly pointed with what it wishes to communicate about our society, specifically how indoctrinated we have become that more often than not many of us still fail to acknowledge facts even when they are slapping us around and spitting on our faces.
But what I loved most about the film is that it is filled with seething anger against those who take religion and use it as a weapon of manipulation in order to achieve one's (or an establishment's) own ends. Although the story takes place 1634, the messages it hopes to impart remain relevant today—and I believe will remain pertinent for another five hundred years.
It tells the story of a priest named Urbain Grandier who was burned at the stake at Loudun, France for supposed witchcraft, bewitching a convent, and making deals with the Devil. During the first part of the picture, we are shown that although Grandier is a soldier of God, he is very much human and therefore flawed: he sleeps with women, he is guilty of vanity, is prideful, and takes pleasure in having power. Grandier is portrayed by Oliver Reed and he injects the character with such machismo and charisma that when his character walks around the city, we can believe why women—even nuns—lust after him; Grandier is a walking movie star, a sex symbol. Although a man of cloth, the writer-director makes a point that the priest is an object to be possessed.
But it is not enough that we follow him around from the perspective of an adoring member of the public. I appreciated intimate and silent moments when it is Grandier by himself—or with a person whom he truly loves and values (Gemma Jones)—and we get to appreciate the respect he has for his faith regardless of his proclivity for self-indulgence. We feel his loneliness as he sits alone in his quarters, frustrations when he wants to do his job during confession but the people who come up to him simply want to bathe in his celebrity, and determination to keep some of Loudun's independence from the French government. Even though Grandier can be understood superficially, the more perspicacious viewers will recognize that he is a person of substance, too—critical in order to completely appreciate the outrageous events that occur in the latter half.
The film could have easily been derailed. There is exaggerated clothing and cosmetics, the tone during the exposition is quite schizophrenic, some of the acting can be quite hyperbolic, and there is even a musical number. Instead, it is focused in the story it wishes to tell. Consider that we spend ample time within the famed walls of Loudun. But when the film steps outside of the city, especially when the attention turns toward Louis XIII (Graham Armitage) and Cardinal Richelieu (Christopher Logue) and they discuss, in amusing and terrifying ways, how else to gain more power within France, pieces begin to fall into place. There is political intrigue: Although Louis XIII is king, Richelieu is the rattlesnake in the grass. The contrast between these two men quickly stands out. Just look at how they're clothed, the way their hair is worn, or if they don makeup. One man may have the power to instruct, but power lies in action. Richelieu enacts.
Another curious piece of the puzzle is Sister Jeanne des Anges (Vanessa Redgrave—so terrific in creating both a despicable and a tragic figure) who claims to love Father Grandier even though they have never met. The most striking moments in the film are when viewers are shoved into her sick fantasies—which almost always involve twisting a recorded event in the Bible—like caressing the body of Christ (Grandier), bowing to his feet, and licking his wounds. Cue the moaning, moments of ecstasy and orgasm. It is paramount that we be aware of what about the priest that excites her, that turns her on, that compels her to take action so that he would pay the slightest bit of attention to her: she who is a nun, who is a hunchback, who is considered to be ugly or unwanted—even in her own eyes.
This woman's incendiary desires—lust—will lead the city into mass hysteria.
"The Devils" is one of those films that make you smile right in the middle of it because it feels like a miracle that it was made. There is plenty to bite into and explore here. I have not even gone into, for instance, the role of the public in amplifying drama which then gives otherwise preposterous claims—claims without a shred evidence—some weight or false substance. False rape accusations quickly come to mind. Here is a multifaceted biographical drama/horror film; what a unique combination. Do yourself a favor and choose to see this if you ever get a chance.