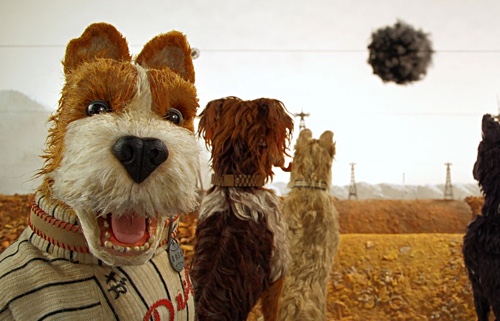 Isle of Dogs (2018)
★★ / ★★★★
As a visual exercise, it cannot be denied that "Isle of Dogs" excels. Its stop-motion animation is a dream to observe even without sound, the dogs are aww-shucks adorable (even the ones that bite), images unique to Japanese culture inspire curiosity, and there is courage in employing different styles of animation when, for example, we are watching something through a television or looking into someone's memory. And yet, like a typical Wes Anderson film, the technical excellence is unable to overshadow the fact that it left me cold emotionally. While not an intolerable experience, I was not invested in its core story.
The picture is supposed to be a love letter to dogs, why dogs are a man's best friend. In a world where all dogs are exiled to a place called Trash Island after an outbreak of canine flu, it is bizarre that the material offers minimal emotion. Dogs and people shed tears during would-be moving situations but instead we end up studying how the tears look rather than actually feeling the moment. This cerebral approach might have worked given a sharper a screenplay with something important to say about humans' relationship not just with domesticated dogs but all animals that we must share the planet with. The elements are there: bureaucracy, the media, politics, science, and rebellion. But they are not put together in a way that tells a grander story of why there is a natural bond between man and dog.
The voice cast is impeccable. Particularly enjoyable are the dogs that Atari (voiced by Koyu Rankin) meets when he crash-lands his plane onto Trash Island in the attempt to locate and rescue his dog Spots (Liev Schreiber). It is led by Chief (Bryan Cranston), a stray dog who does not trust humans. Cranston plays the role not as a voice but as a consciousness, so to speak. I felt he really embodies the sadness and loneliness of a dog who survived in the streets following a tragic incident with his former owners. Edward Norton, Bob Balaban, Bill Murray, and Jeff Goldblum round up the ragtag team who end up aiding in the boy's mission.
Most distracting is a near pointless subplot involving a girl from Ohio named Tracy Walker (Greta Gerwig) who is compelled to expose Mayor Kobayashi's devious plan (Kunichi Nomura) in order to get re-elected. I found the girl's look to be odd and unpleasant. Perhaps the point is for the American exchange student from Ohio to stand out visually, but I felt her extreme look neither fits nor complements her surroundings. Her headstrong personality matches her extreme looks, but nearly every time the attention is on her and away from the dogs, the material verges on boredom. This character is classic Anderson: it must exist simply because it is quirky without necessarily being of service to the story. Take away Tracy's scenes and recognize we can get to the same destination.
I give credit to the writer-director for creating a work that I know he is happy with. Sometimes you just feel that a filmmaker loves his project, and I feel it is the case here. Visually, there are hundreds of details worth putting a magnifying glass over, studying, and appreciating. Many filmmakers of poorer caliber settle for skeletal details—even within the realm of animation. For me, however, I require another level of quality. In this case, it is the emotional kind because the point is to tell a story of man's relationship with dogs. Predictably, because I am familiar with Anderson's oeuvre, it is most frustrating that his latest work is so unfeeling still.